The Suffolk ram is the leading commercial domestic terminal sire in the UK and Ireland. Suffolks produce an excellent early lamb with great muscling and marbling to deliver the taste, flavour and texture demanded by today's consumer.
Because the Suffolk can deliver in a variety of environments and isn't adversely affected by hot summers and associated respiratory problems found in some breeds, commercial farmers are becoming more reliant on the Suffolk ram as many other breeds struggle to perform in the hot conditions. Traditionally a terminal sire, more and more farmers are also using Suffolks for their maternal qualities.
Introducing Suffolk genetics into a commercial flock can only benefit financially, a faster finished lamb, with excellent muscling and marbling makes perfect financial sense. So whether your business is prime, store or breeding lambs, Suffolks continue to deliver for the producer, the processor and the consumer.
Highlighted Commercial Testimonials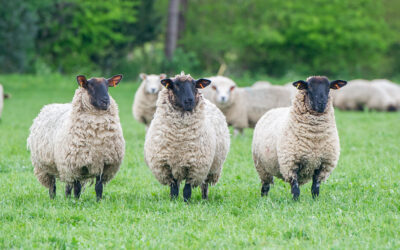 Suffolk genetics are fundamental to the success of a large commercial sheep enterprise at Godolphin Newmarket. The Flock was introduced to Godolphin by Stud Director, Liam O'Rourke in 2005 to improve the sward quality across the Stud land. Flock Manager Dan Phipps...
read more
Signet Breeding Services provides genetic evaluations to livestock producers to help them identify sheep and cattle with superior breeding potential. Read more for further information on the Performance recording with Signet.
A recent independent Descriptive Sensory Test carried out by Ulster University has thrown up some great results for the Suffolk Breed. Read more to see why Suffolk sired lamb is #1 for taste