The Essie Flock aim for strong, fertile rams that produce lambs which are easily lambed and fast growing.
Irene Fowlie, husband Jim and daughter Gillian farm at Adziel, Strichen, Fraserburgh, Aberdeenshire. The home farm consists of 1550 acres owned and 700 acres rented rising to 440 feet with varying soil types of sand, clay and loam across the units with fantastic views of the North Sea and is home to the renowned Essie flock of Suffolk Sheep.
The Suffolk flock consists of over 400 in total of ewes and lambs, Shearling Rams and Gimmers. There are also 220 Aberdeen Angus x suckler cows with 1200 bought-in stores with the majority being Aberdeen Angus x. The Arable enterprise is 600 acres with the grain kept for feeding the livestock on the farm. There is also 150 acres of trees.
The Essie flock was registered 40 years ago. Irene Fowlie commented "we ran 800 early lambing commercial ewes and decided we could breed our own rams for the production of early finished lambs. The flock expanded and, with other commercial farmers enquiring about purchasing Suffolk rams, the pedigree flock expanded and we made a decision to sell the commercial flock."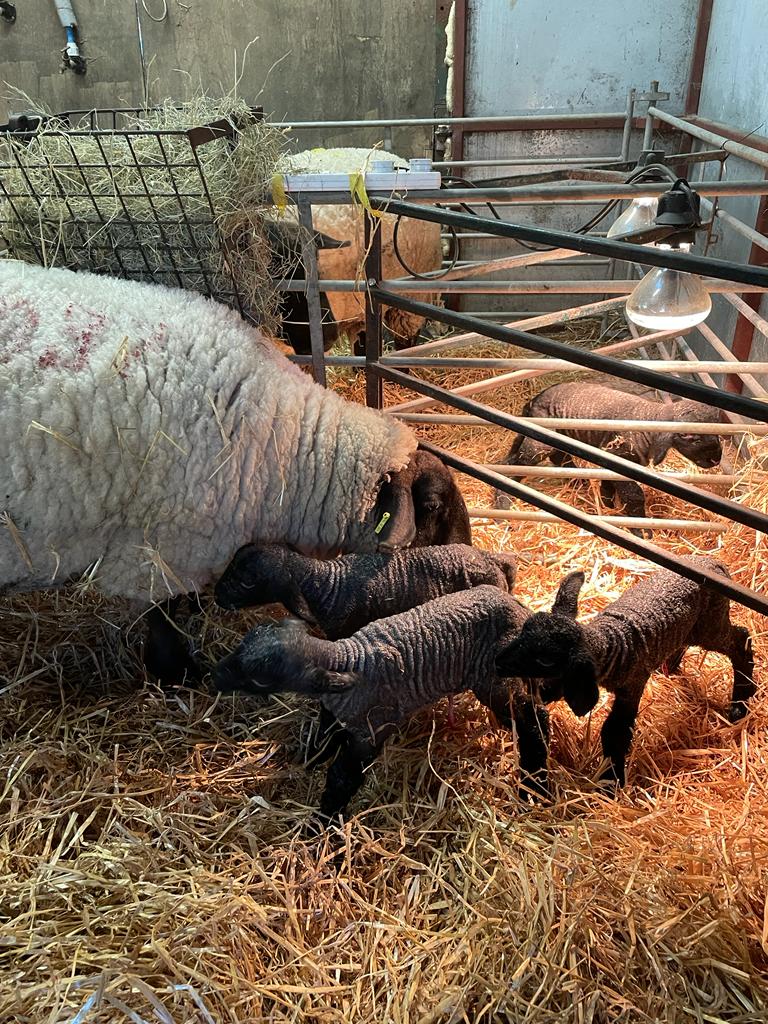 Ewes are lambed indoors but are run outside every day prior to lambing. Irene Fowlie says "we believe this keeps them fit and any problems are easily detected. They are batched up in lambing groups of about 15 ewes and when the lambs are about a week old they go outside in their groups for several hours. We believe this helps the mothering especially of gimmers and helps maintain their general health, especially their feet. They are turned out as soon as there is grass. The shearling ram lambs and ewe lambs are outdoors 24/7 on grass all winter. Over the generations, they have now adapted genetically to thrive on grass alone." The Essie flock has a lambing of 185%- 190%, with the majority of ewes having twins and usually more triplets than singles.
The Essie flock sells 75 shearling rams a year. The policy is to rear them naturally until they are 18 months old. From weaning day, they run on grass to allow them to grow naturally. 45 females are sold each year to pedigree flocks with many being exported.
The sheep are paddock grazed with cattle in the summer months with ewes flushed on fresh grazing. Store lambs are purchased from the Outer Hebrides in the autumn and graze on our farm near Peterhead. These lambs are all sired by Essie Suffolk Tups. The aim is to finish all lambs on grass which gives Irene Fowlie confidence they are producing the right type of Suffolk Ram.
Many Suffolk Rams from the Essie flock are purchased to produce replacement females in commercial flocks being crossed with Mules, Cheviots and Texel x ewes. Essie rams are in the top 5 % of UK Performance Recorded pedigree Suffolk sheep for both Terminal and Maternal traits – more than half are in the top 1% for either Terminal or Maternal.
"we aim to produce strong, fertile rams that produce lambs which are easily lambed and fast growing, we receive positive feedback from farmers who purchase Essie Tups."

Irene Fowlie, Essie Flock
Essie Tups are bred with ease of lambing in mind. Irene Fowlie said "the lighter bone and less broad heads certainly makes ease of lambing one of our selling features. We also have a few sheep with pedigree NZ genetics. I bought semen from top NZ Performance flocks and bred and used a ¾ NZ ram and then kept his son."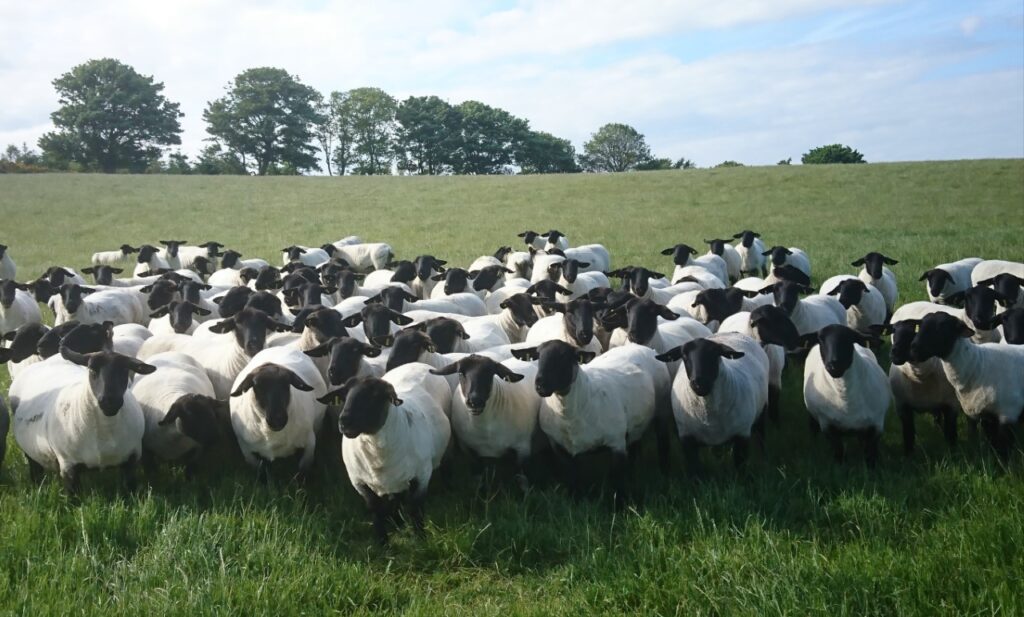 Rams from the Essie flock have been selected for the Ram Compare project for the last 6 years. Over 5 breeding seasons, RamCompare – a Terminal Sire project – has recorded the performance of 26,000 lambs sired by 280 rams and 11 breeds. Rams in the project must be shearlings or older, in the top 25% of breed Performance Recorded and in recent years need to be CT Scanned. An Essie ram is 5th overall for Muscle Depth EBV (2016 -2020) over all the breeds tested. He also is the second highest Suffolk middle weight – the most meat in the loin area (2016 -2020). The highest Suffolk for middle weight is one of our stock rams. Two Essie rams featured in the top 10 rams for Scan Weight EBV(2019). In the 2020 analysis, an Essie shearling which had been CT Scanned, was 8th in the leading rams for Muscle depth EBV and 4th for Fat depth EBV.
The flock is high health and MV Accredited and has been in the Scrapie Monitored Scheme for more than 10 years. All stock rams are tested ARR/ARR. Shearling Rams are blood tested every year and are CLA tested clear. All gimmers are vaccinated for enzo and toxo.
All of Essie stock rams are home bred. All lambs, both male and female are ultrasound scanned at 16 -18 weeks old and then 15 Ram Lambs are CT scanned from which the best is selected as a stock ram. For CT scanning the lambs have to be the best grown ones with overall good visual conformation, length, tight skins, sound on legs and feet, correct teeth and testicles. High Index lambs are selected for both for Terminal and Maternal traits and lambs with good muscle depth relative to their weight. This criteria is used when Irene Fowlie is searching for a stock ram with genetic breeding different from the Essie flock.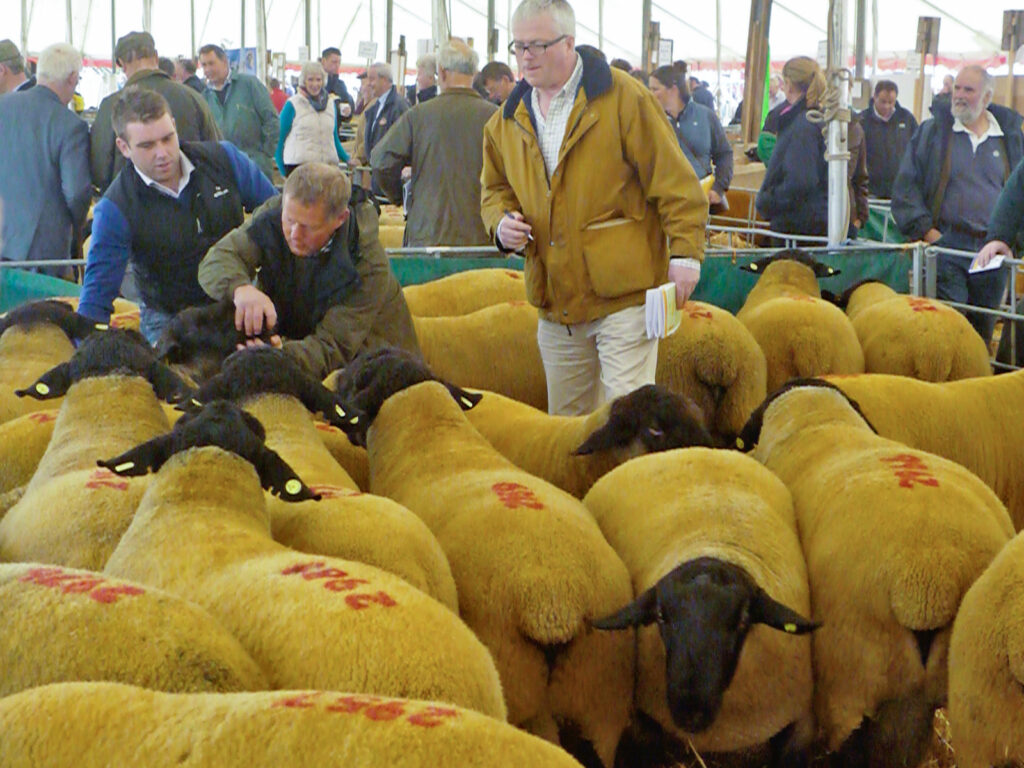 The Essie flock sells shearlings rams at Kelso and Dingwall Highland Auctions, with Rams also sold on the farm in August for early lambers and pedigree buyers. Irene Fowlie said "for several years we have made our own Catalogue with individual photos of every ram along with their Performance and breeding data. This is available on Facebook via the website – www.essiesuffolks.co.uk.
Irene Fowlie commented "our first export in 2012 was 360 straws of semen from three Essie rams to Quebec in Canada. For five months of the year, they have deep snow and very cold temperatures and they have adapted well. Our most recent export was a consignment of 32 females and 4 rams to Georgia. They were the first sheep to be exported from UK to Georgia, Eastern Europe. We had to negotiate with the Georgian authorities and DEFRA to create an new Export Health Certificate. The previous year we exported gimmers and rams to Russia, and semen from three rams to USA." Essie genetics are now in 15 countries and this demonstrates how versatile the Suffolk breed is worldwide.
Contact: Irene Fowlie,
Mobile:07721517969
Tel: 01771 637263
Email: fowlie_@hotmail.com