Borderway Mart, Carlisle – Friday 4th August 2023
A large entry for the Northern Branch show and sale meant that some lots were not forward for the sale as vendors particularly later in the draw.
Females were again very much in demand and the Shearling gimmers and ewe lambs brisk bidding with shearling gimmers seeing a 100% clearance and a sale average of 791.6gns for the 25 entered. Ewe lambs a 78% clearance with the sale average of 511gns. Reflecting the confidence in the Suffolk breed as it continues its ascension in the marketplace as the preferred choice and recognition of the "Suffolk Advantage".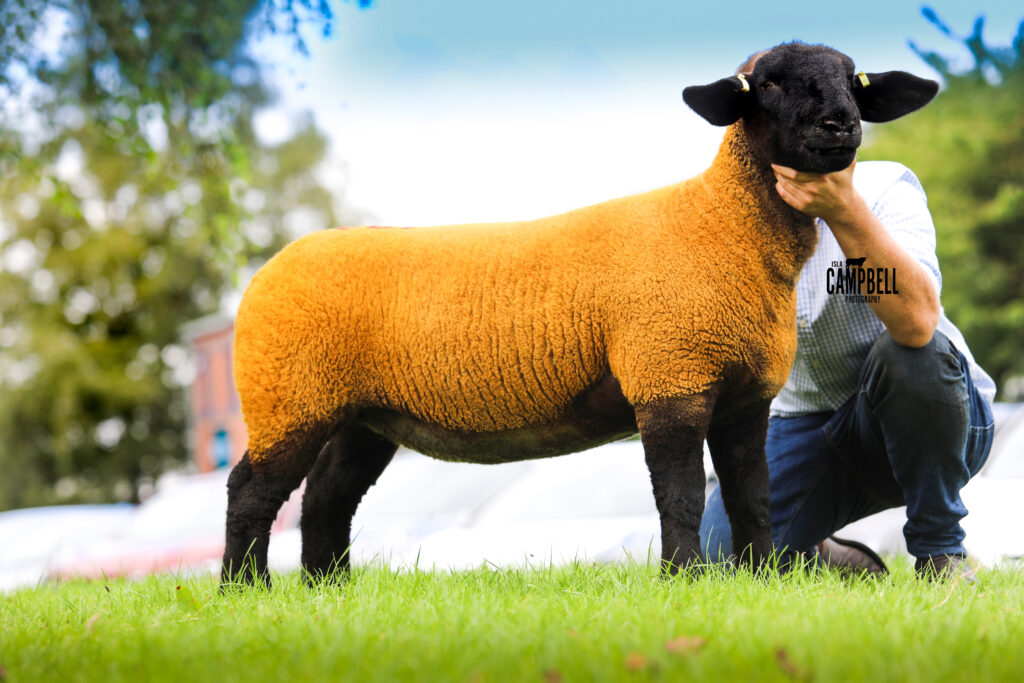 Shearling Gimmers were first to go under the hammer with three lots attaining 1100gns, Andrew Hambleton Dovedale with lot 402 twin ET by Salopian Scuderia, heading to MW Roberts , Ruthin, Pam Lupton Kexbeck with lot no 407a naturally sired twin by Rhaeadr Welsh Wizard from a home bred ewe, purchased by R Darlington, from Buxton, and DP & RA Delves Bridgeview, with their lot number 422 a single ET sired by Salopian Stradale from a home bred ewe finding a new home with Richard Bowdler Ltd Ellesmere Shropshire.
A further three lots made the four figure sum of 1000gns Andrew Hambleton with lot 401 by Salopian Scuderia, heading to the same home as the previous top priced lot MW Roberts and co, Ruthin, Stephen Bolland's lot 408 the first prize Gimmer by Strathbogie Supershot staying north with Iain Fitzsimon Burnside , Shawhead, Mark Evans first lot through no 409 by Cranorski Capone a naturally sired lamb from a home bred ewe to D Bell and Son Lockerbie And Lot 403 from Delves and Co to A&C Watson Whitehaven Cumbria.
Ewe Lambs were next up and leading the way with lot 428 @850gns Mrs JJ Tooze Spittal flock and female Champion at the show earlier was a naturally sire lamb by Rookery Rodeo being taken back to Bolton le Sands Carnforth by G Riley.
Next highest price was achieved by G & FJ Soulsby, Williamsgill, for a lamb sired by Rhaeadr Gunner being the preferred choice of Delves and Co, Powys at 650gns.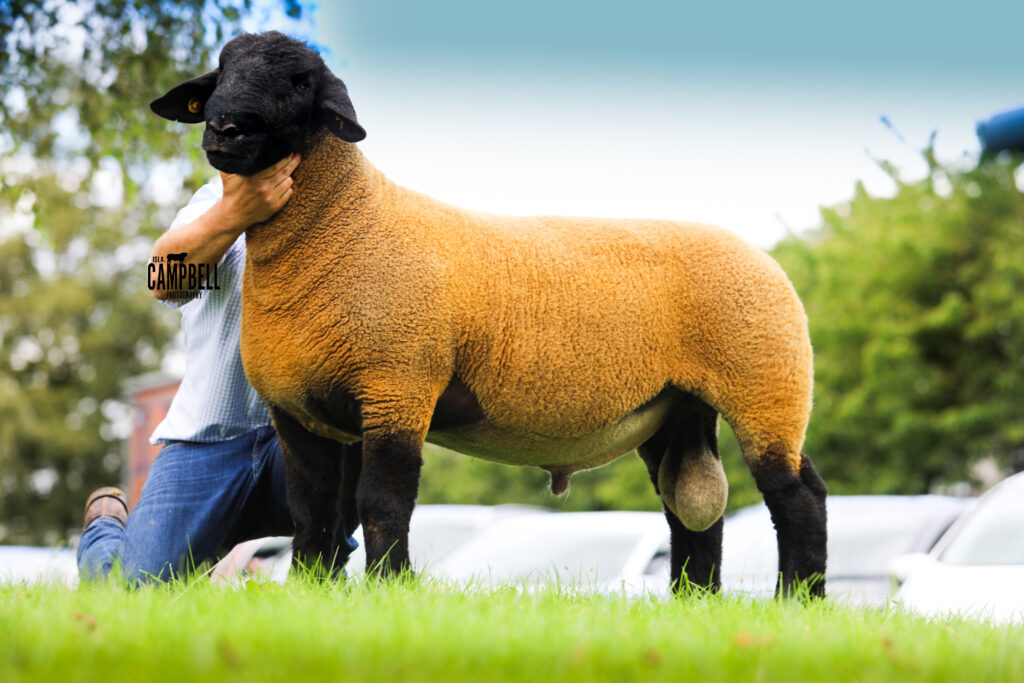 Shearling tups saw plenty of competitive bidding for the nine lots forward with Andrew Hambleton's Dovedale flock consignment lot 445 Castleisle Arcade Fire taking the top spot at 2400gns. A single naturally bred lamb sired by Shannagh Resolve (Eire) being snapped up by JM Elliot and Partners, Kelso
Anthony Glaves a regular consigner to the sale and the judge of the classes earlier in the days his lot number 446 a substitute by Strathbogie Black Magic M17:22:06020 reach 1900gns at the fall of the hammer to WJ Moir Cairness ltd, Fraserburgh.
Lot 457 from SJ Buckley, Sitlow reaching 1700gns, and first place in the show earlier in the day in its class. A naturally bred twin shearling by Pyeston Stormzy heading off to her new keeper D Farr Rowistone, Hereford.
A large entry for the Northern Branch show and sale meant that some Ram lamb consignors were not forward for the sale especially at the latter end of the draw. With 114 lots going through the ring on the day a clearance rate of 85% with a sale average of lambs sold at 955.62gns a slight increase on last years number and the 85% clearance with more lambs finding new homes in 2023 again reflecting the increased interest from breeders in the Suffolk.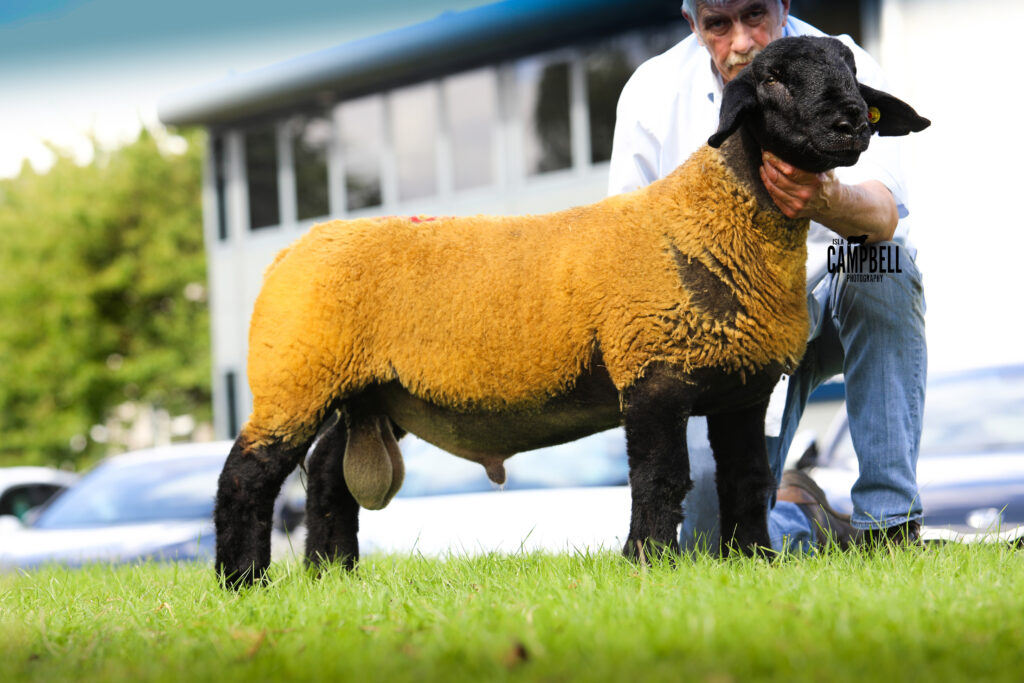 Top price of 4600gns being achieved by lot number lot 505 sold by Myfyr Evans Rhaeadr flock. A naturally bred twin lamb by Dunfell Dynamite from a home bred ewe. catching the eye of several breeders as a good addition to their flocks. Pam Lupton, Kexbeck taking the lamb home to north Yorkshire with the winning bid at the fall of the gavel.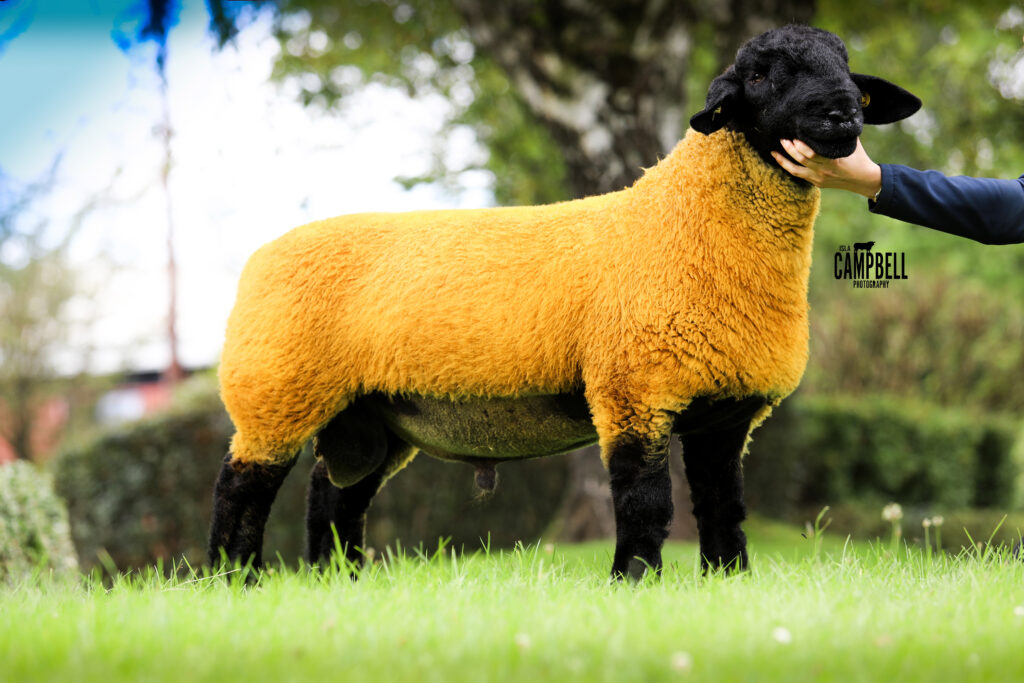 James Cannons Redbrae lot number 477 was next up on the high-priced lots on the day returning 3200gns. The naturally bred twin lamb by Forkins Samson out of a home bred ewe catching the eye of the sale with the hammer falling to SJ Buckley and partners and heading off to the Sitlow flock.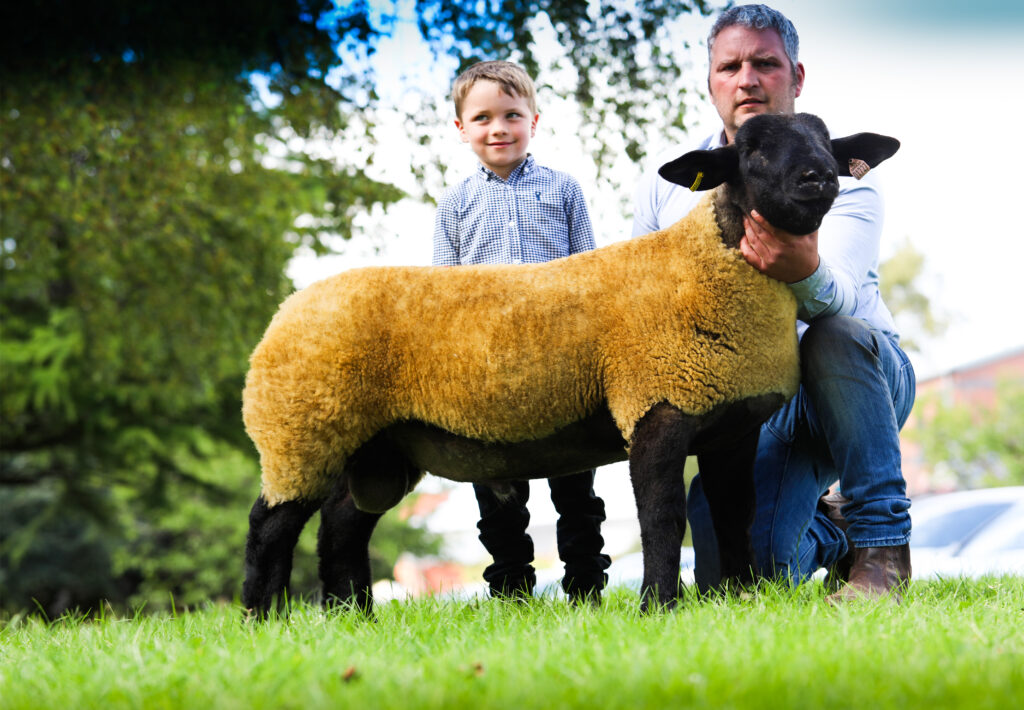 Two lots forward attained 2600gns for their breeders Myfyr Evans second consignment lot number 504 a single ET lamb by Dunfell Dynamite from a Lakeview ewe male and overall champion at the show earlier in the day heading down to Oswestry to join the flock of C Whitticase & son Glanmartin. Lot 570 from vendor Ted Darlington Teddys flock a single lamb naturally sired by Sitlow Clean Bandit from a Glenstone ewe, with two purchasers taking a half share each.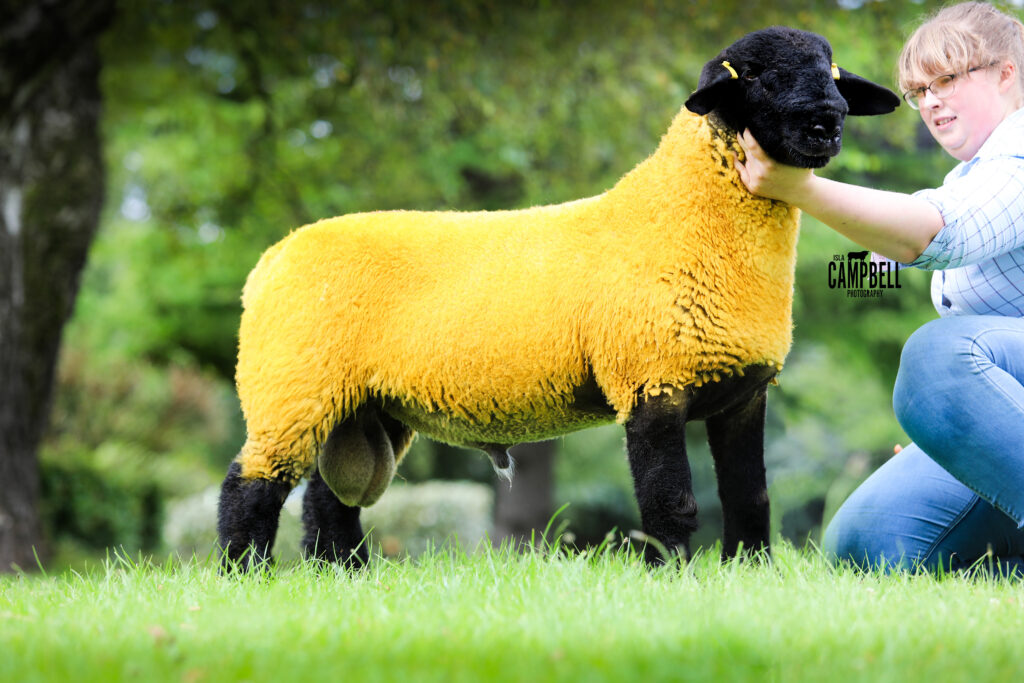 James Wallace Claycrop consigning lot number 468 a twin naturally bred by Sportsmans Masterplan from a Limestone ewe reaching 2400gns returning north of the border to join the Hiddleston's, Irongray flock.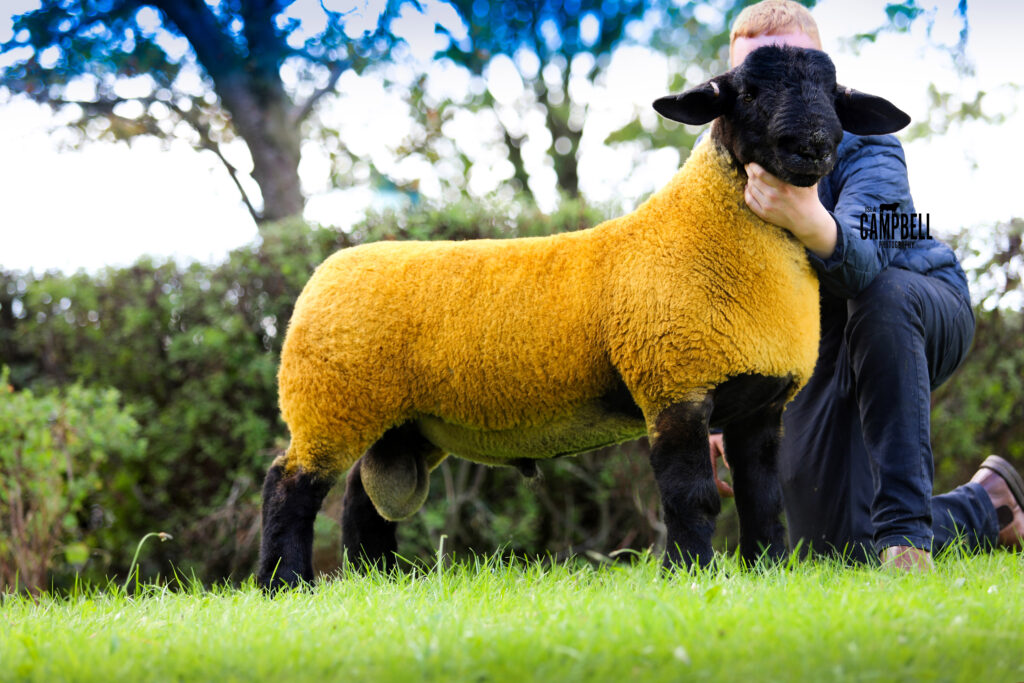 Lot 552 from Finlay Hunter Sunset reached 2200gns the twin ET lamb by Frongoy Explosion out of a Maidenstone dam purchased by A Jackson Cummertrees, with his further two lots achieving 1700gns and 850gns, a good day for Finlay!
A further two lots achieved a return of 2000gns firstly Alistair Jacksons Topgun flock lot number 483 a son of Cairnton Chaos from a Crewlands dam catching the winning bid of Charlie Boden and heading to work at Sportsmans. RH Blacks Collessie lamb lot 506 a son of Limestone Marksman with some of the spoils from the Highest priced lamb at the national last week being reinvested by MJ Ludgate Remprstone flock.
| | | | |
| --- | --- | --- | --- |
| Lot No | Flock | Price gns | Purchaser |
| 505 | Rhaeadr | 4,600 | Kexbeck |
| 477 | Redbrae | 3,200 | Sitlow |
| 504 | Rhaeadr | 2,600 | Glanmartin |
| 570 | Teddys | 2,600 | Share / Unknown |
| 468 | Claycrop | 2,400 | Hiddleston |
| 552 | Sunset | 2,200 | Topgun |
| 483 | Topgun | 2,000 | Sportsmans |
| 506 | Collessie | 2,000 | Remprstone |
| 500 | Williamsgill | 1,900 | Landale |
| 529 | Middlemuir | 1,800 | Mid Skeog |
Judging Results – Judge – Anthony Glaves – Brompton Flock
Class 1 – Shearling Gimmers
1st Lot 408 Stephen J Bolland, Wharfe
2nd Lot 423 D P & R A Delves, Bridgeview
3rd Lot 406 Mrs Pamela Lupton, Kexbeck
4th Lot 419 C Whitticase & Son, Glanmartin
5th Lot 402 Andrew Hambleton, Dovedale
Class 2 – Ewe Lambs
1st Lot 428 Mrs J J Tooze, Spittal
2nd Lot 432 G & F J Soulsby, Williamsgill
3rd Lot 426 Mrs Pamela Lupton, Kexbeck
4th Lot 440 Samantha Thomas, Glenstone
5th Lot 435 Mrs Katie Brannen, Moorsley
Class 3 – Shearling Rams
1st Lot 457 Mr S J Buckley, Sitlow
2nd Lot 445 Andrew Hambleton, Dovedale
Class 4 – Lamb Ram
1st Lot 504 Myfyr A Evans, Rhaeadr
2nd Lot 584 Stephen J Bolland, Wharfe
3rd Lot 469 James I A Wallace, Claycrop
4th Lot 597 Mark Evans, Jubilee
5th Lot 477 James T Cannon, Redbrae
Class 5 – Best Pair of Lamb Rams
1st Stephen J Bolland, Wharfe
2nd James T Cannon, Redbrae
3rd S J Buckley, Sitlow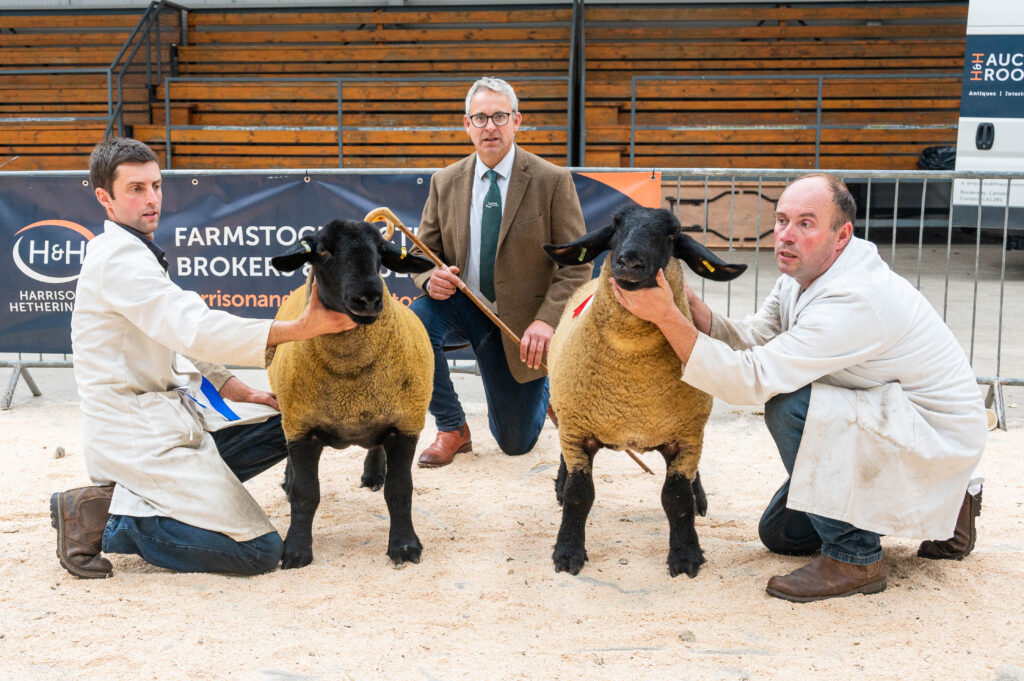 Female Championship
Lot 428 Ewe Lamb from Mrs J J Tooze, Spittal
Reserve Female Champion
Lot 408 Shearling Gimmer from Mr Stephen J Bolland, Wharfe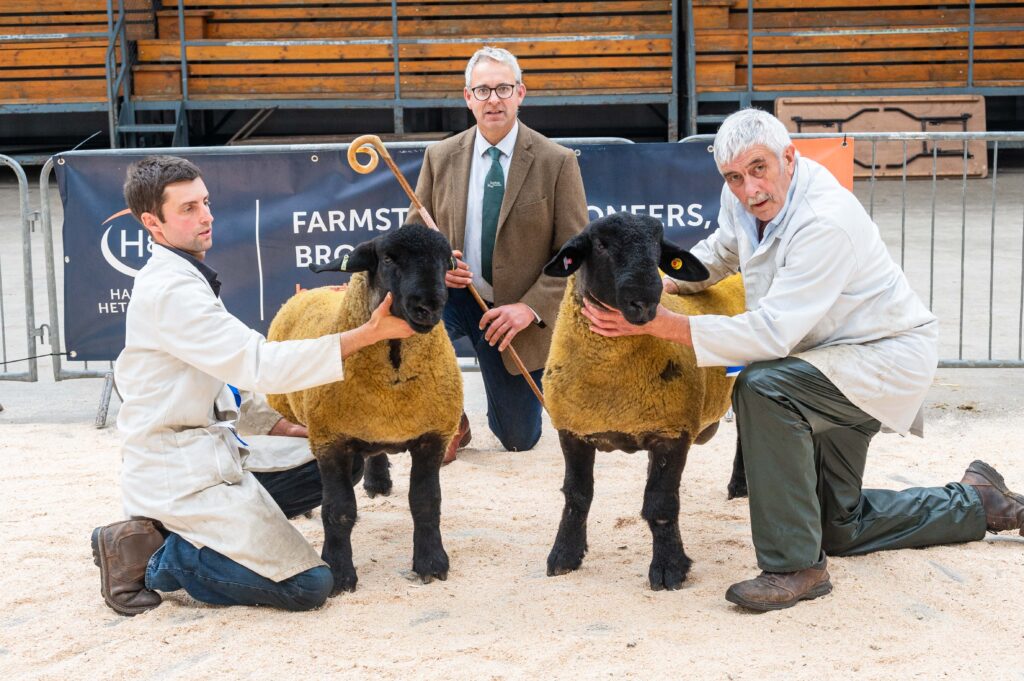 Overall, Champions & Male Champions were one in the same!
Lot 504 Lamb Ram from Myfyr Evans, Rhaeadr
Lot 584 Lamb Ram from Mr Stephen J Bolland, Wharfe