Date: Thursday 20th & Friday 21st July 2023
Sponsors: J C Environmental Solutions and Galloway & MacLeod Auctioneers: Lawrie & Symington
Show Judges: Mr Pat Machray, Middlemuir flock (Pedigree Classes) & Mr Craig Bradbury, Satchells Farm (Young Handlers and Elite Class)
Packed ring shows continued interest in investing in the Suffolk Breed.
Lanark Auction Centre being the venue the sale started at 11.15 under Archie Hamilton of Lawrie and Symington and got off to a flying start with the packed ring one reflecting the interest in investing in the Suffolk breed.
Top of the shop for the 88th Show and Sale was a ram lamb from Stuart Craft (Lakeview) with lot number 235 a Single ET by Strathbogie Stalone out of Lakeview JFF:21:01358 changing hands in shared ownership between Charlie Boden (Sportsmans) and Paul Delves (Bridgeview). The ram was top price for 2023 at 52,000 gns.
Next top came from the Castleisle flock for Andrew Wilson when his Kells-T-Rex sired lamb realised 28,000gns. His dam is homebred and by the Lakeview Armani. He sold in a three-way share with half purchased by Messrs Hutchinson for his Howgillfoot flock, with a quarter share selling to Ross Lawerence of the Roundacre flock and the final quarter to Finn Christie for his Maidenstone flock.
Jed Sharp (Hawshill / Sharps) had an outstanding pen of lambs with Lot 203 achieving 17,000 gns sired by Rhaeadr Warrior, on a shared ownership between Barbour (Solwaybank) and Craft (Lakeview) at the fall of the hammer. Followed by lot 204 by Sportsmans Striker, coming in at 20,000gns scooped up by Phil Poole (Salopian). Lot 205, the Overall Reserve Champion, sired by Rhaeadr Warrior attaining 18,000 gns to George L Stuart (Birness).
The Overall Champion Lot No 170 sired by Sportsmans Golden Moment, consigned by the Barbours (Solwaybank) went across to buyers from the USA who were present at the sale. Bill & Betsy MacCauley, MacCauley Suffolks, Atglen, Pennsylvania were looking for the perfect lamb to tweak their own breeding and saw the potential in the Champion ram taking it to 22,000gns.
Another at 20,000gns came from Myfyr Evans, (Rhaeadr) for his Dunfell Dynamite bred lamb, out of a Lakeview dam sired by Limestone Limited Edition. He now heads to work with four different flock, all taking a quarter share. Lesley Liggett (Carony), Mark Priestly (Limestone), Allen Short (Crew) along with Williams Suffolks in Portugal, were the final bidders.
Philip Gurney (Oakbridge), having made the trip from Coleraine, Northern Ireland to the sale realised 16,000 gns for his ram Lot 91 by Forkins Masterplan naturally served single lamb by Crewelands PWN :19:01121 heading off to Richard Bowdler Ltd.
Mark Priestley (Limestone), a regular attendee at Lanark from Northern Ireland realised 16,000 gns for his lot number 188 a lamb sired by Castleisle A Kingsman heading back over the water to Dennis Taylor (Ballynacannon).
Melvin Stuart (Birness) attaining 13,000, for Lot 74 the Scottish Reserve Champion, a lamb by Rookery the King out of a homebred dam staying north in Scotland in a two way share between Stewart Lathangie (Pyeston) and Mike Black (Collessie).
Averages: 147 ram lambs averaged £3363.93 (177 forward) with an 84% clearance rate and 11-five figure prices realised.
Top Ten ram lamb prices Lanark 2023
| | | | |
| --- | --- | --- | --- |
| Lot No | Flock | Price Gns | Purchaser |
| 235 | Lakeview | 52,000 | Bridgeview / Sportsman |
| 156 | Castleisle | 28,000 | Hutchinson, Lawrence & Christie |
| 170 | Solwaybank | 22,000 | MacCaulay Suffolk (USA) |
| 204 | Hawshill / Sharps | 20,000 | Salopian |
| 176 | Rhaeadr | 20,000 | Limestone,Williams Liggett & Shortt |
| 205 | Hawshill / Sharps | 18,000 | Birness |
| 203 | Hawshill / Sharps | 17,000 | Lakeview / Solwaybank |
| 188 | Limestone | 16,000 | D Taylor |
| 91 | Oakbridge | 16,000 | Richard Bowdler ltd |
The female sale was held on the Thursday evening at 6.30 following the Show in the afternoon attracting a fair crowd to Lanark. A reduced number from the catalogue entry leaving 11 gimmers sold to an average of 1990.23 gns.
Lot 15 topping the sale at 4000 gns a Burnview Bombay Saphire daughter consigned by DP and RA Delves (Bridgeview) being purchased by I&J Barbour Solwaybank.
Lot 12, which was the Female Champion from the L Hutchinson (Howgillfoot),was next top price at 3000 gns heading to the Lakeview flock of Stewart Craft. A Frongoy Rocket daughter from a Howgillfoot dam certainly caught the eye.
Lot 6 was a Strathbogie Scorcher daughter from Nicholson (Knockem) and Lot 11 again out of Frongoy Rocket and from Hutchinson (Howgillfoot) both reached 2500 gns at the drop of the hammer.
Averages: 11 gimmers averaged £1990.23 (13 forward)
Topping the Ewe Lambs at 500gns was the Reserve Female Champion from Mrs J J Tooze of the Spittal flock. Sired by the 3,200gns Redbrae The Rock, she is out of a homebred dam, sired by Crewelands Crete. She heads north to Orkney with Messrs Laird, Yeldabreck.
Averages: 3 ewe lambs averaged £385.00 (6 forward)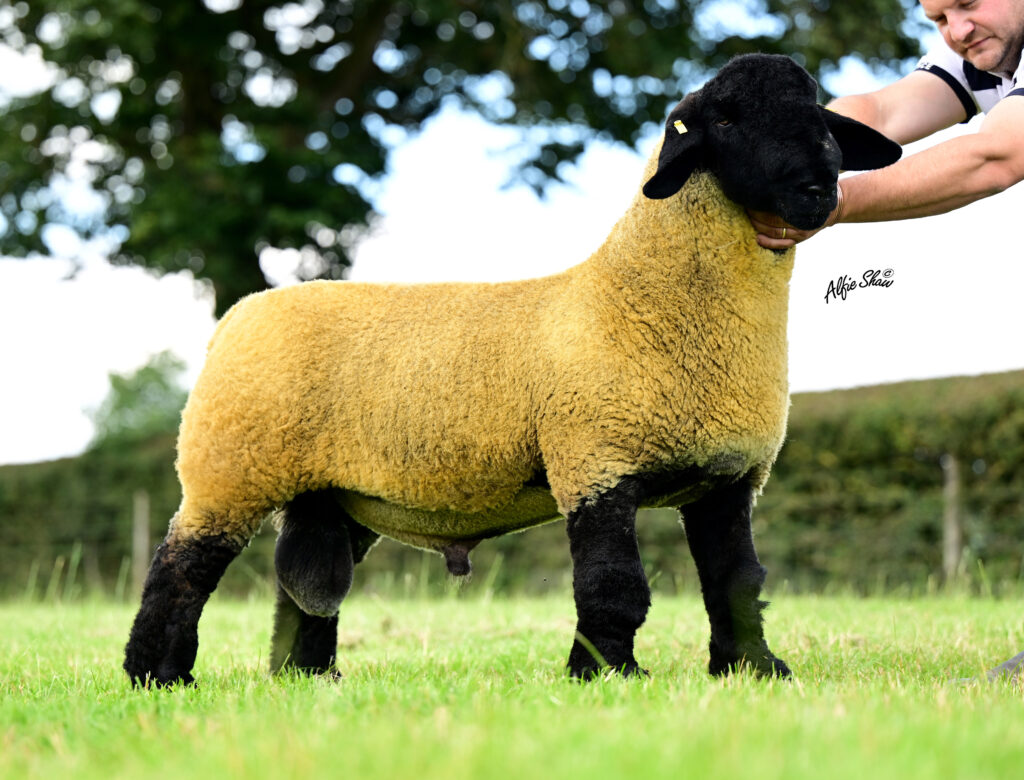 SHOW RESULTS – Thursday 20th July 2023
A good show of quality Suffolk stock and young handlers was seen by a packed General hall at Lanark for the Scottish Branch Sow and sale with two judges elected to officiate Pat Machray – Middlemuir flock looking over the Show of sheep classes, and Craig Bradbury putting the Young handlers through their paces and also the Elite Commercial Ram class.
Overall Champion Lanark 2023 –Lot no 170 – Solwaybank
Overall Reserve Champion 2023 –Lot no 205 – Sharps
Scottish Breed Champion: Lot 170 from Solwaybank (Ram Lamb)
Reserve Scottish Breed Champion: Lot 74 from Birness (Ram Lamb)
Male championships
Male champion Lot no 170 – Solwaybank
Male reserve champion Lot no – 205 Sharps
Female championships
Female champion 12 – Howgillfoot
Female reserve champion 26 – Spittal
Class 8: Group of Three Ram Lambs (8 forward)
1st Birness (Lot 74 – 1W:23:03856, Lot 76 – 1W:23:03853, Lot 77 – 1W:23:03857)
2nd Hawshill/Sharps (Lot 203 – WPT:23:00257, Lot 204 – WPT:23:00266, Lot 208 – WPT:23:00270)
3rd Claycrop (Lot 210 – NCX:23:09138, Lot 211 – NCX:23:09103, Lot 212 – NCX:23:09143)
4th Solwaybank (Lot 171 – FHT:23:02361, Lot 172 – FHT:23:02387, Lot 175 – FHT:23:02326)
5th Oakbridge (Lot 92 – FSC:23:00546, Lot 93 – FSC:23: 00518, Lot 94 – FSC:23:00520)
6th Bridgeview (Lot 120 – BLN:23:01989, Lot 121 – BLN:23:01984 (SUB), Lot 123 – BLN:23:02018 (SUB))
Class 7: Open Ram Lamb (24 forward)
1st Lot 170 from Solwaybank (FHT:23:02352)
2nd Lot 176 from Rhaeadr (A12:23:02671)
3rd Lot 235 from Lakeview (JFF:23:02158)
4th Lot 188 from Limestone (KPC:23:02331)
5th Lot 73 from Birness (1W:23:03864)
6th Lot 193 from Pyeston (LVL:23:00952)
Class 6: Novice Ram Lamb (15 forward)
1st Lot 205 from Hawshill/Sharps (WPT:23:00315)
2nd Lot 222 from Frongoy (NAT:23:10764)
3rd Lot 139 from Sportsmans (WWZ:23:01446)
4th Lot 149 from Howeburn (LBC:23:06287)
5th Lot 199 from Howgillfoot (UTZ:23:00313)
6th Lot 82 from Mullaghboy (UJX:23:00268)
Class 5: Ewe Lamb (3 forward)
1st Lot 26 from Spittal (DYX:23:00052)
2nd Lot 21 from Strathview (PPZ:23:00377)
3rd Lot 25 from Spittal (DYX:23:00068)
Class 4: Gimmer (5 forward)
1st Lot 12 from Howgillfoot (UTZ:22:00224)
2nd Lot 5 from Knockem (SUP:22:19309)
3rd Lot 13 from Harpercroft (249:22:01224)
4th Lot 15 from Bridgeview (BLN:22:01778)
5th Lot 6 from Knockem (SUP:22:19306)
Class 3: Elite Commercial Ram Lamb (14 forward)
1st Lot 56 from Redbrae (JKA:23:05227)
2nd Lot 169 from Cadgerford (414:23:01019)
3rd Lot 81 from Birness (1W:23:03882)
4th Lot 47 from Cranorskie (PUZ:23:01460)
5th Lot 157 from Castleisle (DDX:23:01372)
6th Lot 42 from Pyras (ZLN:23:00811)
Class 2: Young Handlers (16 – 26) (2 forward)
1st Gemma Stuart
2nd Hannah Lormier
Class 1: Young Handlers (Under 16s) (6 forward)
1st Riley Gurney
2nd Noah Taylor
3rd Aimee Liggett
4th Lara Taylor
5th Charlie Sharp
6th Glen Henderson
Show presentation photos: