The National Flock Competition Overall winner for 2023, Mr Stephen Cobbald hosted the view day as per the custom, at his farm at Acton Hall, Acton, Suffolk and what a treat for all who attended. The home of the Lavenham Flock did not disappoint and a lot of hard work had been put in to prepare both the sheep and the venue for the occasion which was appreciated by all who came.
Owing to circumstances this was the second view day this year and the objective was to have a sociable time with plenty of good food, and hospitality so that all who attended remembered the day as a standout event and that was ably delivered by Stephen and his band of helpers!
People had travelled far and wide to be at the day with around 100 guests enjoying a very sociable and convivial occasion with a top drawer four course lunch with roasted Suffolk lamb served as the main course which was of course beautifully tender, juicy, succulent and tasty. With complimentary wine and beer this recreated the same menu from the Suffolk Sheep Society Annual Dinner 60 years ago where Stephen was the after dinner speaker.
The presentation of the trophies and certificates of merit started at 11.00am promptly followed by some words of welcome and introduction from Stephen. Stewart Lathangie, the 2023 judge complimented everyone for their entries which gave him a tough job and thanked the Society for giving him the opportunity to do it.
As an extra to the flock competition Stephen presented his shepherdess Amy with a very fine shepherds crook as a token of his gratitude, thanks and esteem, an unexpected surprise for Amy, for all she does for him and the flock.
The whole gathering were taken on a tour of the sheep which were conveniently corralled for Stephen and able shepherdess Amy to talk through the individual sheep and answer questions on the Shearling ewes, Ewe lambs and individual stock rams currently in his flock. Further information was given about the rest of the farming operation at Acton Hall which consists of 1200 acres of arable land and further grassland and meadows that is used for the sheep enterprise.
Returning from the tour for lunch and an abundance of enthusiasm about the occasion and indeed the Suffolk breed. A celebration cake to mark the occasion had been commissioned and was cut and shared among the guests.
Our current president Alastair Barkley, on behalf of all the attendees thanked Stephen, Amy and family for the efforts and hospitality offered on the day.
A memorable occasion, and one that delivered its objectives for the host, making all the hard work worth it.
BRISTOL GOLD CUP
Overall Winner: Stephen Cobbald, Suffolk, (Lavenham Flock)
Overall Reserve: Dafydd G Jones, Ceredigion (Frongoy Flock)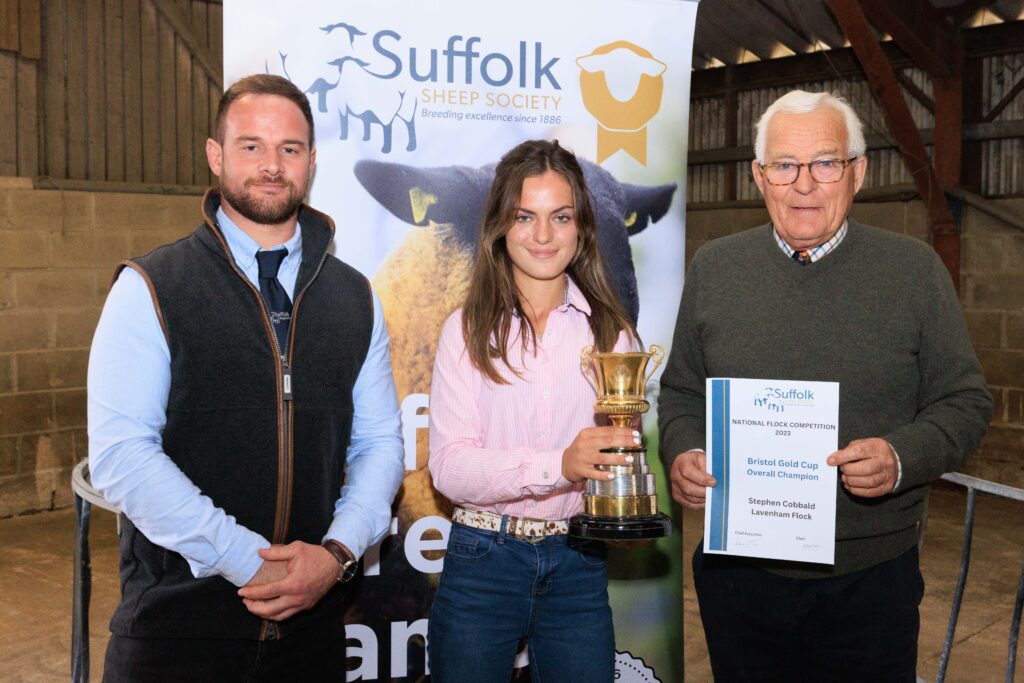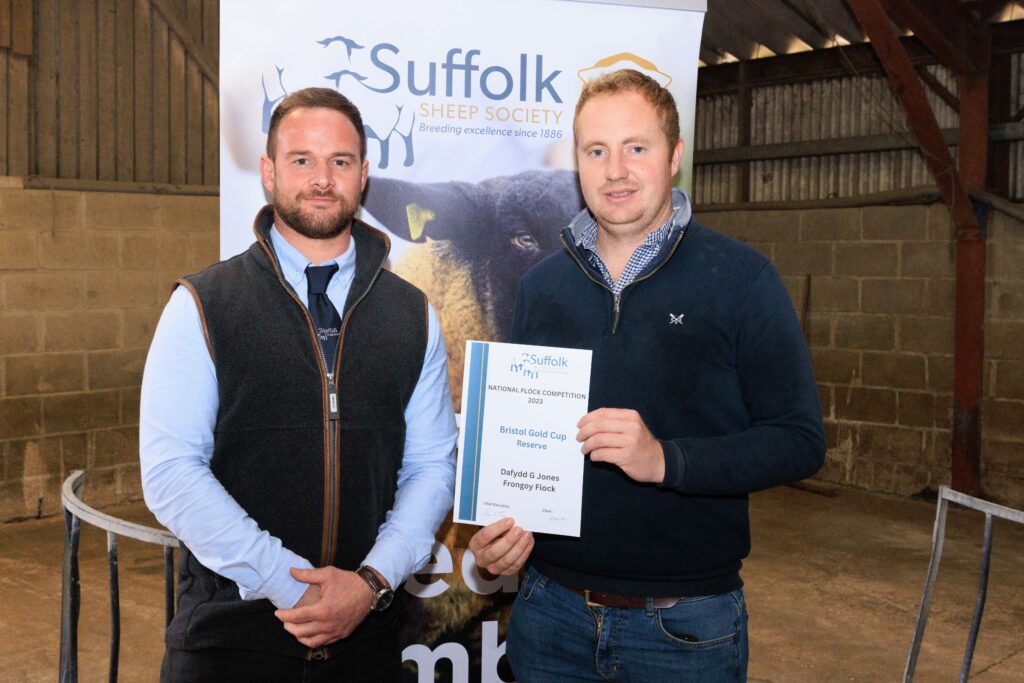 Suffolk Sheep Society Cup (0 – 15 Ewes)
Winner: Claire Whitticase, Shropshire, (Glanmarton Flock)
Reserve: Sandra Woodend, Cumbria, (Hyton Flock)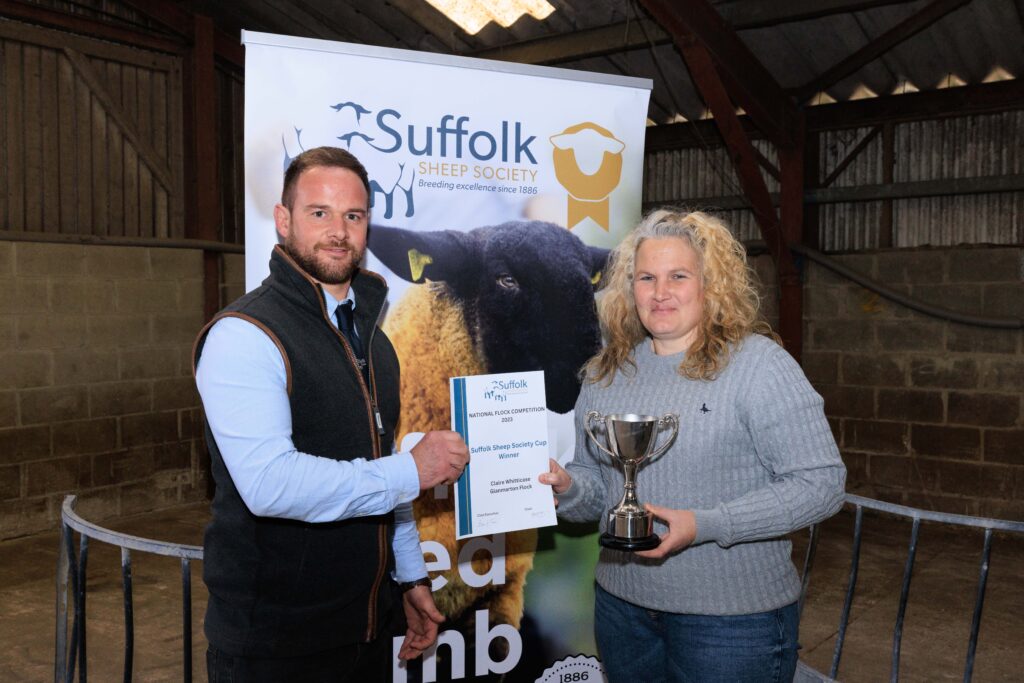 John Long Cup (16 – 30 Ewes)
Winner: Stephen Cobbald, Suffolk, (Lavenham Flock)
Reserve: J Irving, Carlisle, (Glenreiver Flock)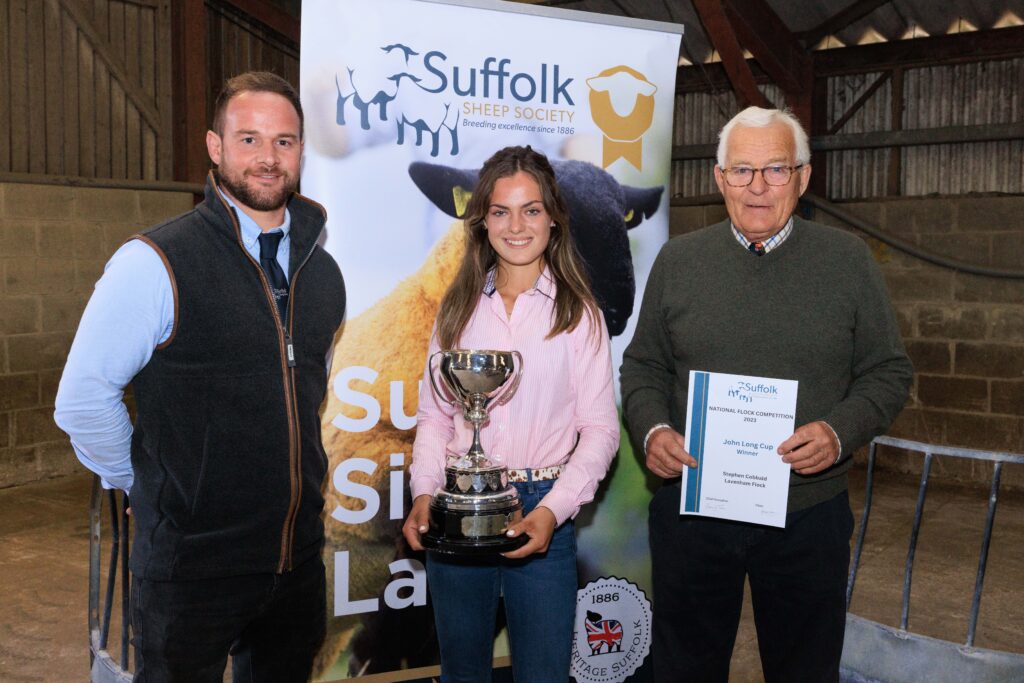 W E Lloyd Cup (31 – 60 Ewes)
Winner: Dafydd G Jones, Ceredigion (Frongoy Flock)
Reserve: Mrs R H Goldie, Ayreshire (Harpercroft Flock)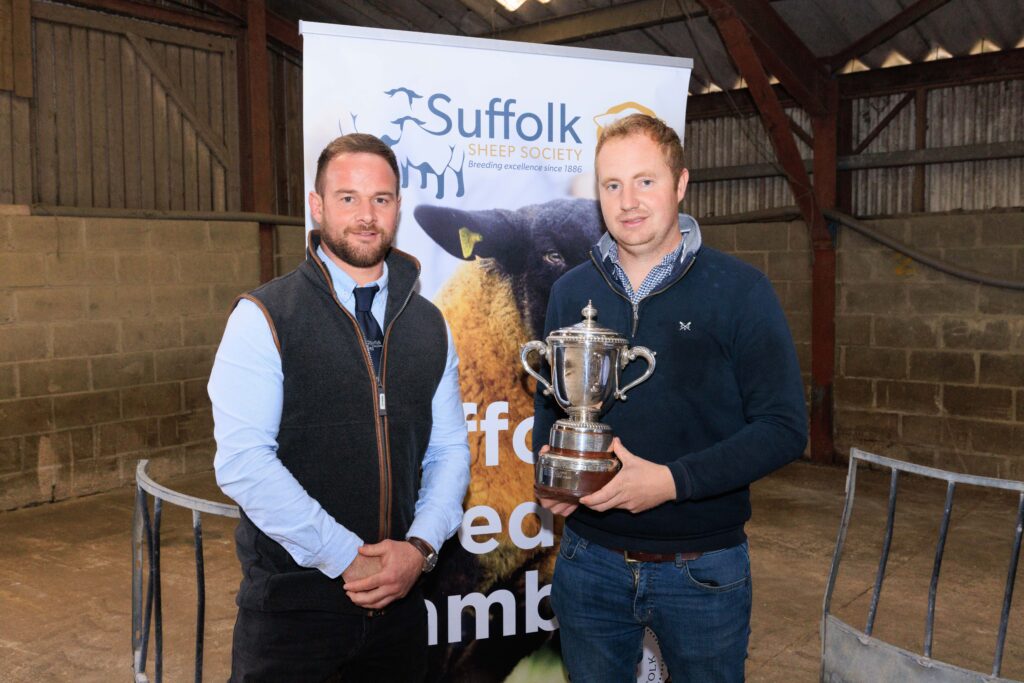 Brook Perpetual Challenge Cup (101+ Ewes)
Winner: Jed Sharp, Worcestershire, (Sharps Flock)
The Howard Peel Cup (Best Stud Rams)
Winner: Jed Sharp, Worcestershire, (Sharps Flock)
Reserve: Stephen Cobbald, Suffolk, (Lavenham Flock)
Certificate of Merit: Mrs R H Goldie, Ayreshire (Harpercroft Flock)
The Sainsbury Cup (Best Ewe Lambs)
Winner: Dafydd G Jones, Ceredigion (Frongoy Flock)
Reserve: Stephen Cobbald, Suffolk, (Lavenham Flock)
Certificate of Merit: Mrs R H Goldie, Ayreshire (Harpercroft Flock) and J Irving, Carlisle, (Glenreiver Flock)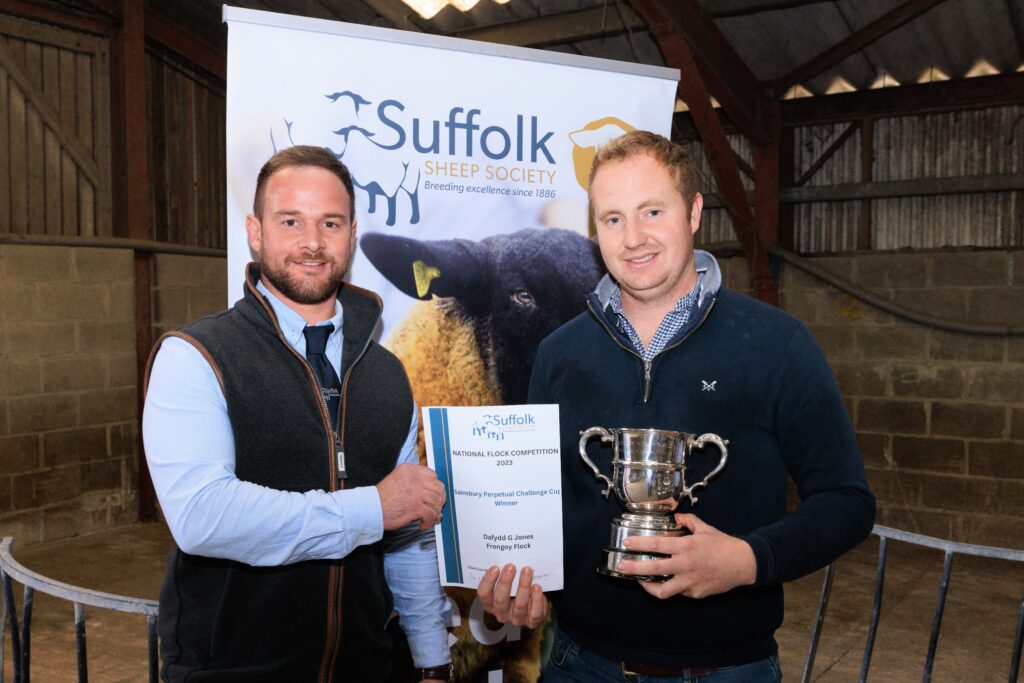 The Bonnington Cup (Best Flock of Ewes)
Winner: Stephen Cobbald, Suffolk, (Lavenham Flock)
Reserve: Dafydd G Jones, Ceredigion (Frongoy Flock)
Certificate of Merit: Mrs R H Goldie, Ayreshire (Harpercroft Flock) and J Irving, Carlisle, (Glenreiver Flock)
Progeny Group
Winner: R H Goldie – 'Strathbogie 24 Carat'