Date: 7th-8th September 2023
Judge: S Sutherland, Caithness
In a complete polar opposite to last year, the Showground at Kelso was blessed with blistering heat and the Shearling and Ram lamb trade was even hotter! Sale records tumbled as the commercial sheep world continues to benefit from the Suffolk Advantage.
As is tradition, the bell rang at 10.00am and the rings were packed all day with buyers flocking to the Suffolk rings.
In Ring 8, Scott Donaldson from Harrison & Hetherington, resumed his place in the rostrum where 224 Shearling Rams were presented for sale by the consignors. Bidding was brisk from the outset and continued strong throughout, with the Kelso shearling record price of £10,000 being achieved by lot number 2225 from Jalex Livestock, who also took the crown for the top pen of three price with an average of £4900. Show Champion from Logie Durno, lot number 2258, reached £4500 at the gavel bought by Jalex Livestock and was followed up with a large pen of strong prices. Trade was firm throughout and the ring average was £1302.46 up £123.62 on the previous year with nine more shearlings finding new homes.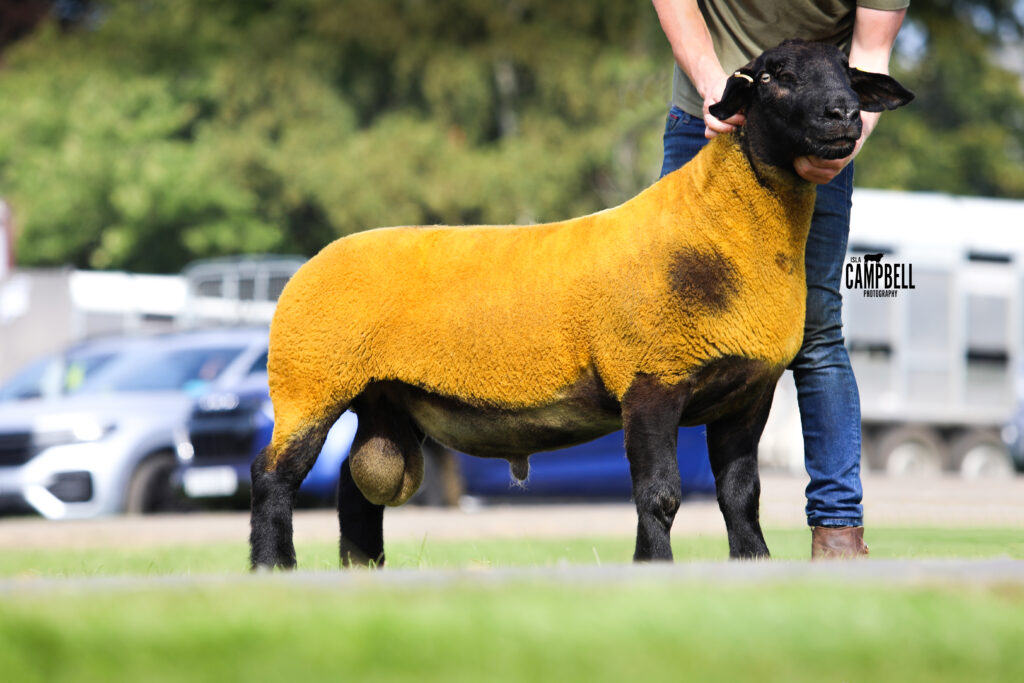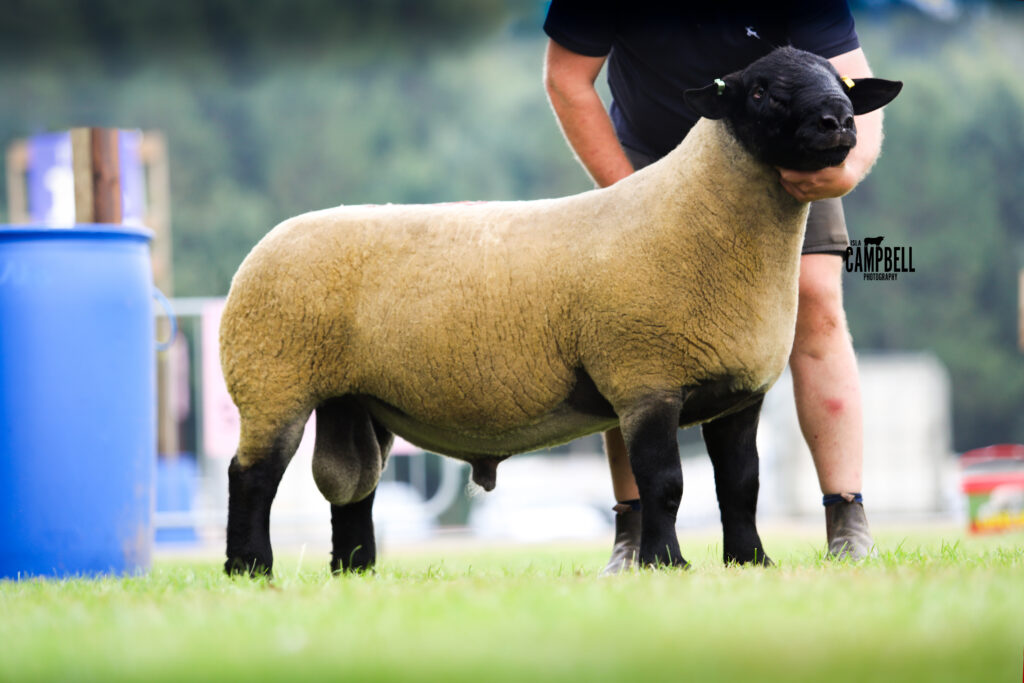 Ring 10, under the gavel of Richard Henderson of United Auctions, was also a flying trade with 174 put forward and 166 finding new owners. The breed record was smashed with lot number 2725 consigned by Jimmy Douglas (Cairness flock) being bought for £25,000 by John Sinnett on behalf of Jed Sharp (Sharps flock). Again, buyers were around the ring all day with strong bidding and a very good trade. The sale average of £808.47 was up £141.68 on last year with 5 more lambs finding new homes, rubber stamping the resurgence of the Suffolk as the trusted go to in the ever-changing environment that sheep farming is finding itself in.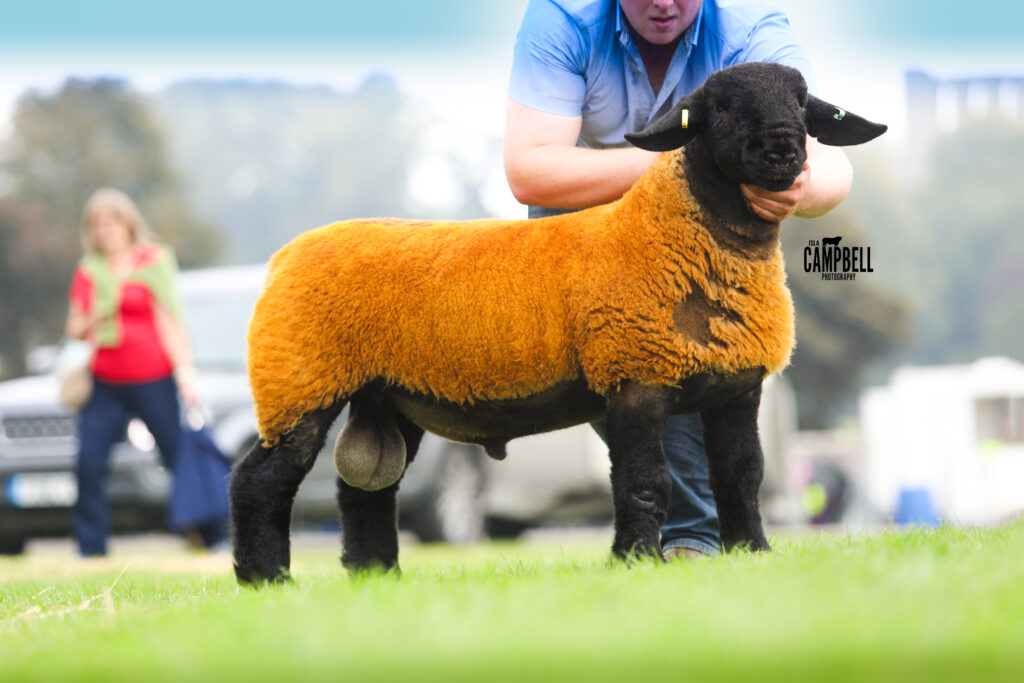 Ring 14 was where the unregistered and non MV sheep were sold. There were 444 put forward under the auspices of Harrison and Hetherington they sold strongly at an average of £906.28, down £2.19 on the previous year.
The Show of MV accredited and registered sheep was held on the Thursday evening which gathered a good crowd round the pens. Judging was carried out by the experienced commercial eye of Stephen Sutherland from Sibmister in Caithness, who were the hosts at the NSA Scotsheep event held in 2019. The event was kindly sponsored by Harbro with placings from 1-6 taking Society rosettes and prize cards.
Results Shearling Rams
1st lot no 2258 – Logie Durno
2nd lot no 2225 – Jalex livestock
3rd lot no 2115 – Langside
4th lot no 2329 – Scrogton
5th lot no 2200 – Brijon
6th lot no 2290 – Roseborough
Results Ram Lambs
1st lot no 2795 – Balquhain
2nd lot no – 2765 – Sitlow
3rd lot no 2700 – Westcarse
4th lot no 2823 – Birness
5th lot no 2710 – Redacre
6th lot no 2805 – Broomknowes
Overall Champion was the Shearling from Logie Durno Lot no 2258
Reserve Overall Champion was the Ram lamb from Balquhain Lot no 2795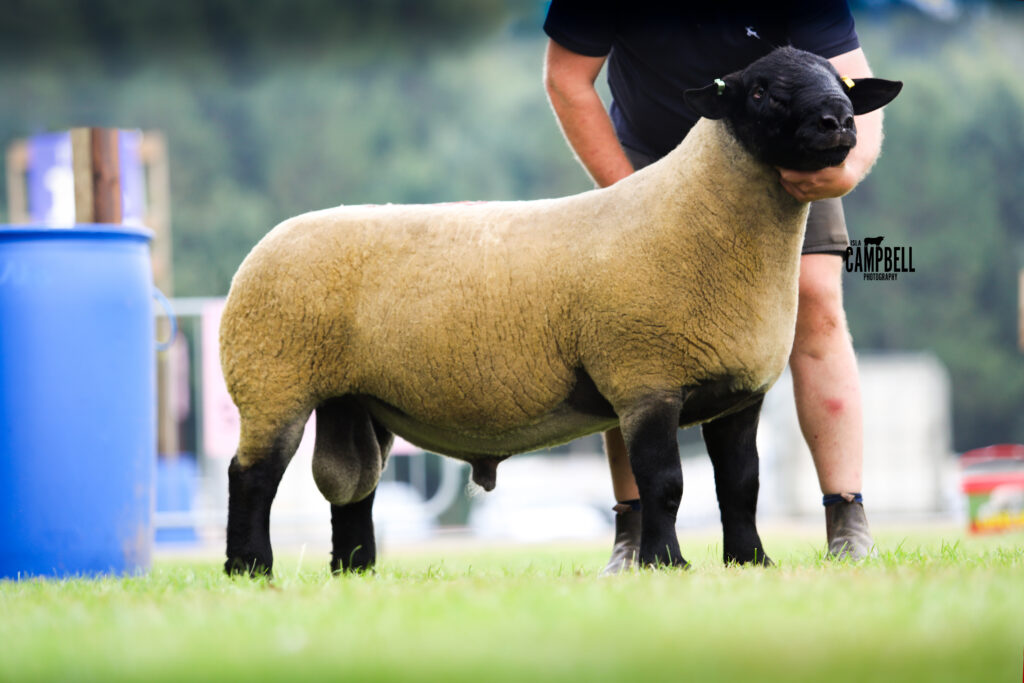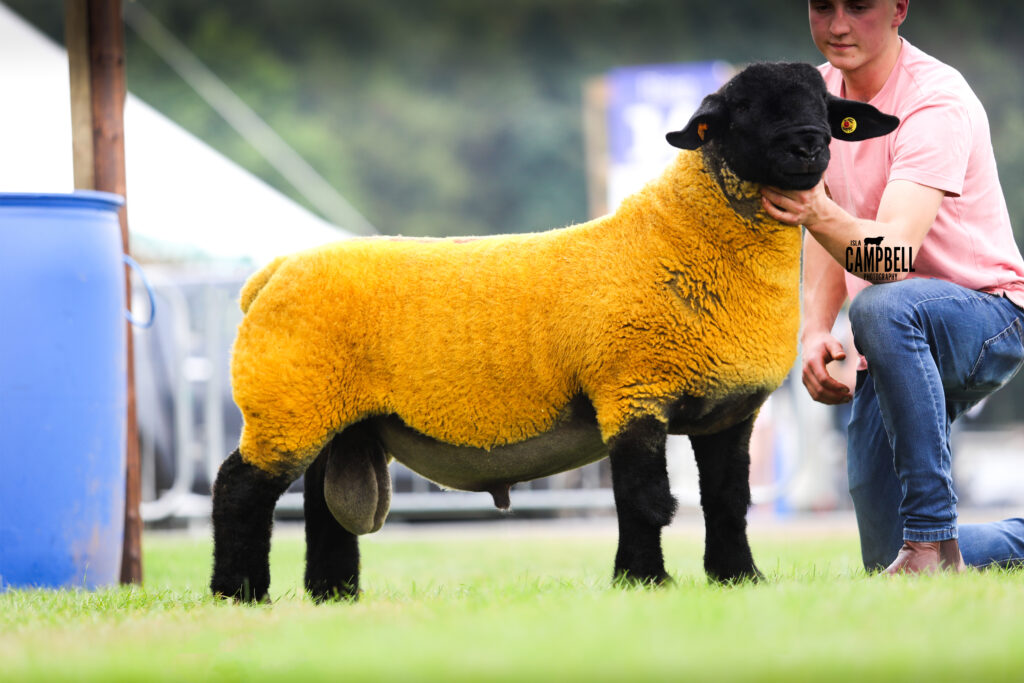 Kelso Show Gallery