Suffolks showing strong into the Interbreed Championships at the Great Yorkshire Show.
DATE: 12th July 2023
JUDGE: William Fleming, Halhill Flock
Judged at 8.30am sharp on Wednesday 12th July at the Great Yorkshire Showground, Harrogate, under the skilled and experienced eye of the Judge, William Fleming (Halhill Flock) from Lanarkshire.
All the exhibitors need to be congratulated for the quality and preparation that was put into the stock presented on the day, both before and during the show which made it a spectacle for the visitors to Ring 7. There were big classes of Ewe lambs and Gimmers, which is a good sign that the breed is in the ascendancy and is becoming the go to breed for many.
The show started off in fine weather but a break in proceedings jus as we headed into the Championships was required as the heavens opened, and we just had to take cover!
The Overall Champion went on to the Interbreed and, as if by way of sanctioning the Judges decision, took the title Reserve Champion Interbreed Pair for 2023 at the Great Yorkshire. It did not end there, our Champion Pair went on to the Pairs Interbreed and Pam Lupton's (Kexbeck flock) pair took the Reserve Champion Pair of lambs amidst some stiff competition.
Members of the Bulmer Family were at the show to present the Branch trophies to the winners at the after-show hospitality, and the Northern Branch extend their thanks to them for taking the time out for the presentation.
The Jack Bulmer Trophy presented for the Best Overall Pen of sheep at the show was awarded by our Judge to Sandra Woodend's Hyton flock. The Richard Bulmer Rose Bowl, presented for the best pen of three sheep, was awarded to the Hiddleston Family (Hiddleston Flock).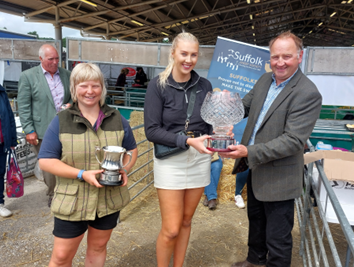 Results:
CLASS 1: Ram 2 shear or over
1st: Lot 2375 – Mr J Howard
CLASS 2: Shearling Ram
1st: Lot 2381 – Mr J Howard
2nd: Lot 2386 – Miss S A W Woodend
3rd: Lot 2379 – Mrs K E Crossley
4th: Lot 2377 – Mrs C Airey
CLASS 3: Ram Lamb Trimmed
1st: Lot 2400 – Miss S A W Woodend
2nd: Lot 2393 – Ms PJ Lupton
3rd: Lot 2392 – Mr J Howard
4th : Lot 2395 – Mr D R Reid
5th: Lot 2398 – The Hiddleston Family
6th: Lot 2387 – Mrs K J Brannen
7th: Lot 2388 – Mr A Chapman
8th: Lot 2391 – Mr R K Denby
9th: Lot 2389 – Mrs K E Crossley
CLASS 4: Ram Lamb Untrimmed
1st: Lot 2406 – Mr J Howard
2nd: Lot 2407 – Ms PJ Lupton
3rd: Lot 2405 – Mr R K Denby
4th: Lot 2403 – Mrs K J Brannen
5th: Lot 2402 – Mrs C Airey
CLASS 5: Ewe 2 Shear or Over
1st: Lot 2416 – TJ & CR Boden
2nd: Lot 2418 – Miss D R Reid
3rd: Lot 2419 – Mr G I Richmond
4th: Lot 2414 – Mr A Chapman
5th: Lot 2415 – Mrs K E Crossley
6th: Lot 2420 – Mrs S J Ryder
CLASS 6: Shearling Ewes
1st: Lot 2440 – The Hiddleston Family
2nd: Lot 2429 – TJ & CR Boden
3rd: Lot 2444 – Mrs J J Tooze
4th: Lot 2437 – Miss D R Reid
5th: Lot 2430 – TJ & CR Boden
6th: Lot 2436 – Mr S Read
CLASS 7: Ewe Lamb Trimmed
1st: Lot 2456 – Ms PJ Lupton
2nd: Lot 2461 – The Hiddleston Family
3rd: Lot 2462 – Mrs J J Tooze
4th: Lot 2452 – TJ & CR Boden
5th: Lot 2458 – Mr D R Reid
6th: Lot 2450 – Mrs K E Crossley
CLASS 8: Ewe Lambs Untrimmed
1st: Lot 2475 – Mr G I Richmond
2nd: Lot 2473 – Mrs PJ Lupton
3rd: Lot 2468 – Mrs K J Brannen
4th: Lot 2469 – Mrs K E Crossley
5th: Lot 2470 – Mr R K Denby
6th: Lot 2477 – Mr J E Wilkinson
CLASS 9: Pairs
1st: Lot 2482 – Ms PJ Lupton
2nd: Lot 2486 – The Hiddleston Family
3rd: Lot 2488 – Miss S A W Woodend
CLASS 10: Team of Three
1st: Lot 2486 – The Hiddleston Family
2nd: Lot 2482 – Ms PJ Lupton
3rd: Lot 2488 – Miss S A W Woodend
MALE CHAMPIONSHIP
Male champ : Lot 2400 – Miss S A W Woodend
Reserve Male : Lot 2393 – Ms PJ Lupton
FEMALE CHAMPIONSHIP
Female Champ : Lot 2416 : TJ & CR Boden
Reserve Female : Lot 2456 : Ms PJ Lupton
OVERALL CHAMPIONSHIP
Overall Champion : Lot 2416 : TJ & CR Boden
Reserve Overall : Lot 2456 : Ms PJ Lupton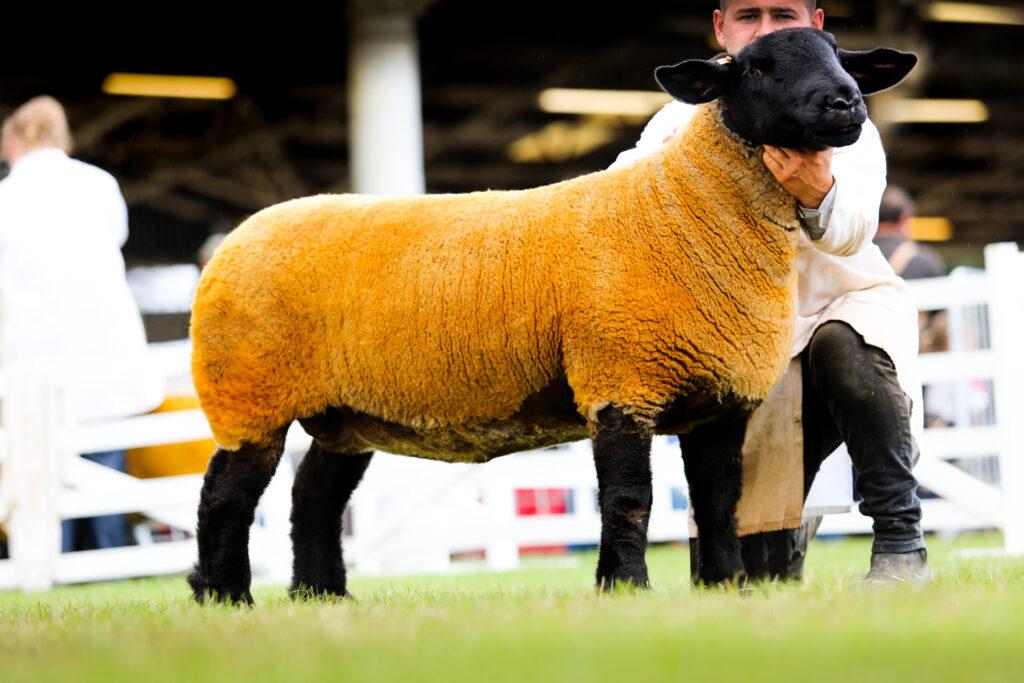 Ringside photos from Great Yorkshire Show