Suffolk Sheep sold to a top of 3,000gns at the Monmouthshire Livestock Centre with J Straker, Chadwick & Sons.
A fabulous entry of 144 Suffolk Females sold to a solid trade with 134 sold – a 93% clearance rate, with buyers & sellers from across the United Kingdom.
The top seller, a Shearling ewe from Stephen W Cobbald, Sudbury, Suffolk sold at 3,000gns to H Lyons, Congleton, Cheshire. By Drimmie Mackie, she was inlamb to a Cairnton lamb, purchased at this years' National Sale.
MA Evans, Rhaeadr, Denbigh sold his 2nd prize ewe lamb by Ardlea Arbennig at 2,100gns to OTW Jones, Llandovery.
Dafydd Jones, Frongoy, Aberystwyth sold a Shearling ewe at 2,000gns by Strathbogie Rock On Tommy, and inlamb to Strathbogie Never Say Never, she sold to P Smithson, Llanfechain, also selling a ewe lamb at 1,950gns also by Rock On Tommy to P Fletcher, Kidderminster.
The Frongoy Flock sold other ewe lambs at 1,500gns, 1,000gns twice, all taken by SC Walker, Tarporley.
Stephen Buckley, Sittinglow, Buxton making his first visit to the Western Wonders topped at 1,550gns for a Stockton Turbine shearling, inlamb to Sitlow Clean Bandit and taken by J & M Hartwright, Worcester. Others from the Sitlow Flock at 1,300gns, 1,200gns & 1,000gns twice.
Dafydd Jones, Frongoy sold his 1st prize Shearling & Reserve Champion at 1,500gns to Messrs Putjade, Kidderminster, and another at the same money to C Davies, Crymych, with a further shearling at 1,200gns taken by M Hawkswood, Coventry.
Ross Lawrence, Roundacre, Devon brought a strong entry to Raglan and sold Flock ewes to 1,200gns, by Lavenham Aven'um and inlamb to Frongoy Cannon to EW Quick & Sons, Crediton, with another at 1,050gns to C Lowry, Monmouth.
His 2nd prize shearling ewe by Salopian Sierra sold at 1,300gns to G Williams, Sennybridge. The 1st prize Ewe lamb & Overall Champion also came from Roundacre, by Strathbogie Magic Mike she sold at 1,000gns to S Cobbald, Suffolk, who also took another at 700gns.
Messrs Hallam & Eggleston sold their top shearling ewe at 1,000gns to Messrs Jones, Lampeter.
Overall Averages
31 Flock ewes                    – max 1200gns        Ave £602.23
71 Yearling ewes              – max 3000gns        Ave £779.96
32 Ewe lambs                    – max 2100gns        Ave £724.50
Overall 134 head averaged £725.59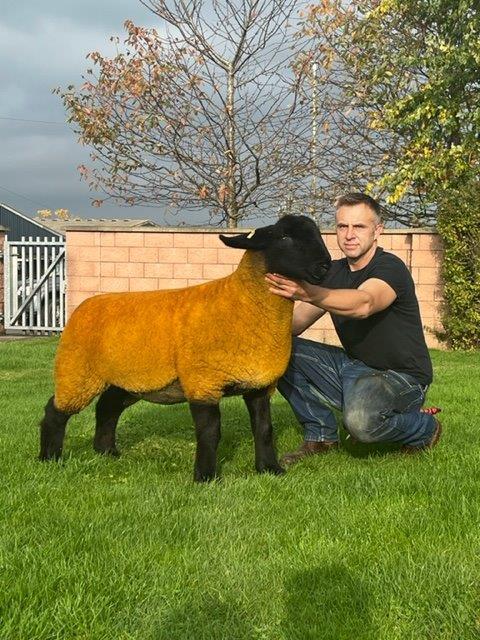 AUCTIONEERS: J. STRAKER, CHADWICK & SONS
NEWS ITEM: 12TH NOVEMBER 2022