Welsh breeder claims supreme champion and top price coup with only two entries.
A November 5th coup was successfully plotted by Welsh sheep farmer Myfyr Evans when of the only two ewe lambs he consigned at Skipton Auction Mart's annual show and sale of pedigree Suffolk females one took top price honours at 3,200gns, the other standing supreme champion and selling for second top call of 1,800gns.
Mr Evans, who runs the Rhaeadr flock at Llanrhaeadr in Denbighshire, headed the selling prices with his January-born single lamb sired by Millhouse Magic Touch, acquired at the National Sale last year for 3,200gns and himself by the 20,000gns Clyda Rightmove. The dam has particularly solid credentials, said to be the best ewe in the flock by Stockton Sniper's Son, a 15,500gns buy by Rhaedar in 2018, again at the National Sale.
Sniper's Son, also responsible for Mr Evans' ewe lamb champion at the 2019 Skipton Suffolk females showcase, has bred sons to 40,000gns and daughters to 6,500gns. The 2022 top price performer returned to North Wales and just 16 miles north of her place of origin with A Oare, of Hollywell in Flintshire.
Mr Evans, who established his Rhaeadr flock in 1979 at the 125-acre Tan-Yr-Accar, clinched the supreme championship with his first prize ewe lamb, a December, 2021, single embryo daughter of the Irish-bred ram Ardlea Arbennig, purchased in 2011 by Rhaedar for a then breed record price of 90,000gns. He has since produced a succession of high-value progeny, sons selling up to 21,000gns and daughters to 7,000gns.
The victor's dam, a Strathbogie Stradivarius daughter, was acquired as a ewe lamb two years ago from Fife-based Stewart Craft's Lakeview flock. The Skipton title winner, whose full sister stood champion at Carlisle the previous day, joined show judge Kate Crossley, who runs the Cobclough flock in Barkisland, Halifax.
The adjudicator said it had been extremely difficult to choose from a "fantastic standard" of ewe lambs, a salient point later reflected in the sale ring when her other two prize winners sold well into four figures.
Standing runner-up was Alan Blair's Thornfleet flock in Thornton Cleveleys, Blackpool, with a December, 2021, twin by Benrafton Barney Boy, out of a home-bred Irongay Black Magic-sired dam that was this year's show ewe. She went to North Craven with Ingleton's R Gill for 1,600gns.
Local fixture regular, Stephen Bolland, who runs the Wharfe flock at The Arches in Bolton Abbey, finished third in class with a December, 2021, single by Solwaybank Cracker, purchased privately two years ago from Ian Barber in Annan, which has bred ewe lambs to 8,000gns. Out of a home-bred Stathbogie Supershot daughter, she, too, caught the eye when selling for 1,500gns to JM Robinson & Son in Grimsby. Two more gimmer lambs from the same home each made 1,000gns.
Mr Bolland also won the other two show classes, his first prize in-lamb shearling ewe tapped out as overall reserve champion. She is another December, 2021, twin by the Crewelands Champion son, Solwaybank Cracker, again coming from a Strathbogie Supershot ewe. Scanned carrying a single to Brigeview Maximus, acquired at the Shropshire National Sale, she found a new home north of the border in Shawhead, Dumfries, with the Fitzsimon family for a section-topping 1,750gns.
A second December, 2020, in-lamb shearling from the Bolland holding, again by Cracker, out of a Rhaeadr Rastafari-sired ewe and carrying twins to Maximus, made 1,500gns when selling locally to Silsden's Simon Bennett. The Wharfe flock's second red rosette winner in the in-lamb ewe show class was a December, 2017, single by the 25,000gns Rhaeadr Rolex 1, out of a Cairness dam, sold carrying triplets to Maximus for 1,250gns to LJ Berry, of Haslingden in Rossendale.
Again arriving with a sold consignment from his Sitlow flock, which lies at the northern edge of the Derbyshire Peak District in Dove Holes, Buxton, was Steve Buckley, topping his run at 1,600gns with the third prize ewe, a January, 2020, daughter of Logiedurno Sonny Bill, whose multiple show successes include male champion and reserve breed champion at the 2019 Royal Welsh and Royal Highland Show reserve male champion – his sons have sold to 4,400gns.
Out of a home-bred dam and scanned carrying triplets to the 15,000gns Sportsmans Black Label, himself by the 200,000gns breed record price Salopian Solid Gold – the 2022 Suffolk Sheep Society Sire of the Year – the ewe also went north of the border to Denny in Stirlingshire with A Morton. Sitlow also sold shearling ewes at 1,300gns, 1,200gns, 1,100gns and 900gns, a further ewe at the same price, another at 800gns.
Glynis and Jane Soulsby, of the Williamsgill flock in Temple Sowerby, Penrith, returned to pick up two show tickets, finishing runners-up with a January, 2020, twin by Middlemuir Hendricks, out of a home-bred Roseden Endeavour-sired dam in-lamb to Strathbogie Invictus and sold for 1,000gns to Holmfirth's Paul Sykes, also achieving 900gns with their third prize shearling ewe, an Invictus daughter in-lamb to Hendricks.
Red Rose breeder Geoffrey Richmond, of the Sullom flock in Goosnargh, Preston, stood runner-up in the shearling ewe show class with a January, 2020-born ewe by Strathisla Speilburg, out of a home-bred Rookery Jagerbomb dam. Scanned carrying twins to Sullom Simply The Best, she too hit four figures with a 1,000gns selling price. The local buyer was Glusburn's David Towell.
In fact, 16 of the 80 Suffolk females forward made four-figure prices, a packed ringside eager to secure all classes. Sale averages were also solid, levelling overall at £715 per head, with 17 ewes averaging £673. 29 (2021 £989), shearling ewes £742 (2021 £1210) and 34 ewe lambs £714 (2021 £697).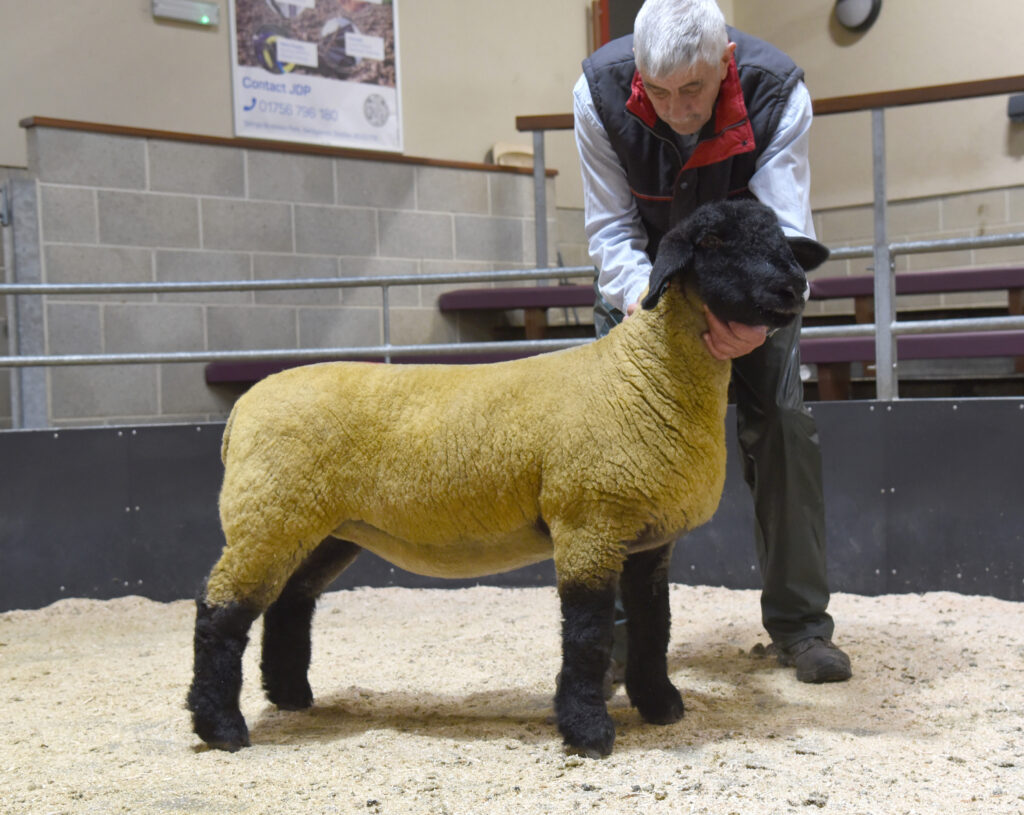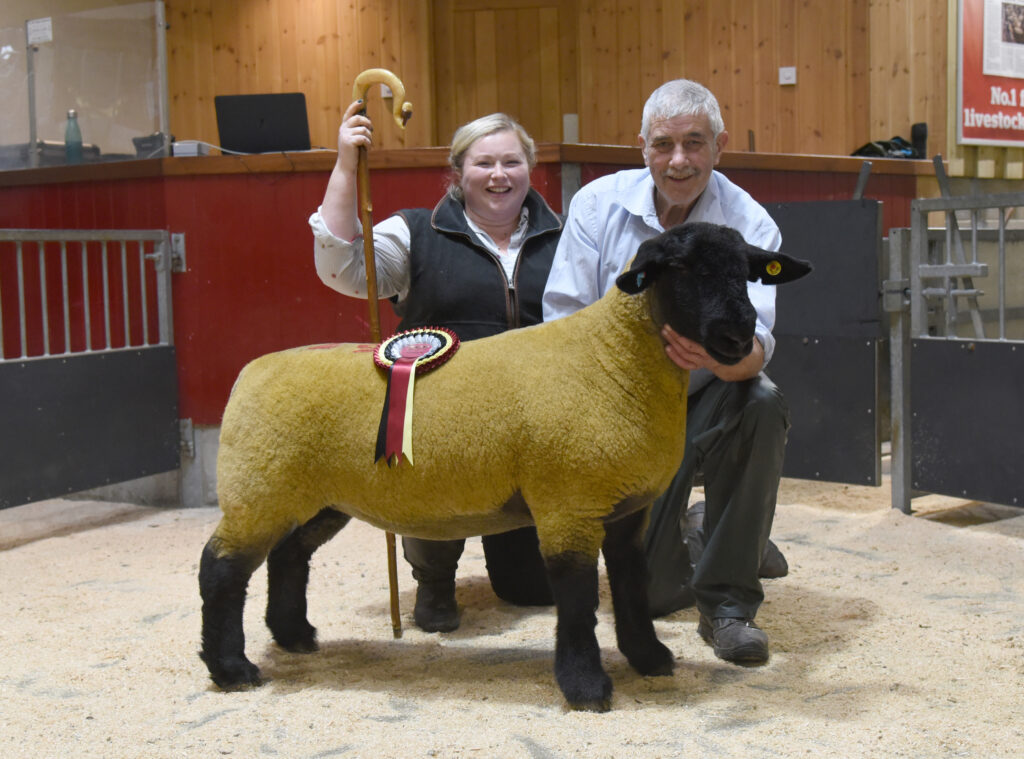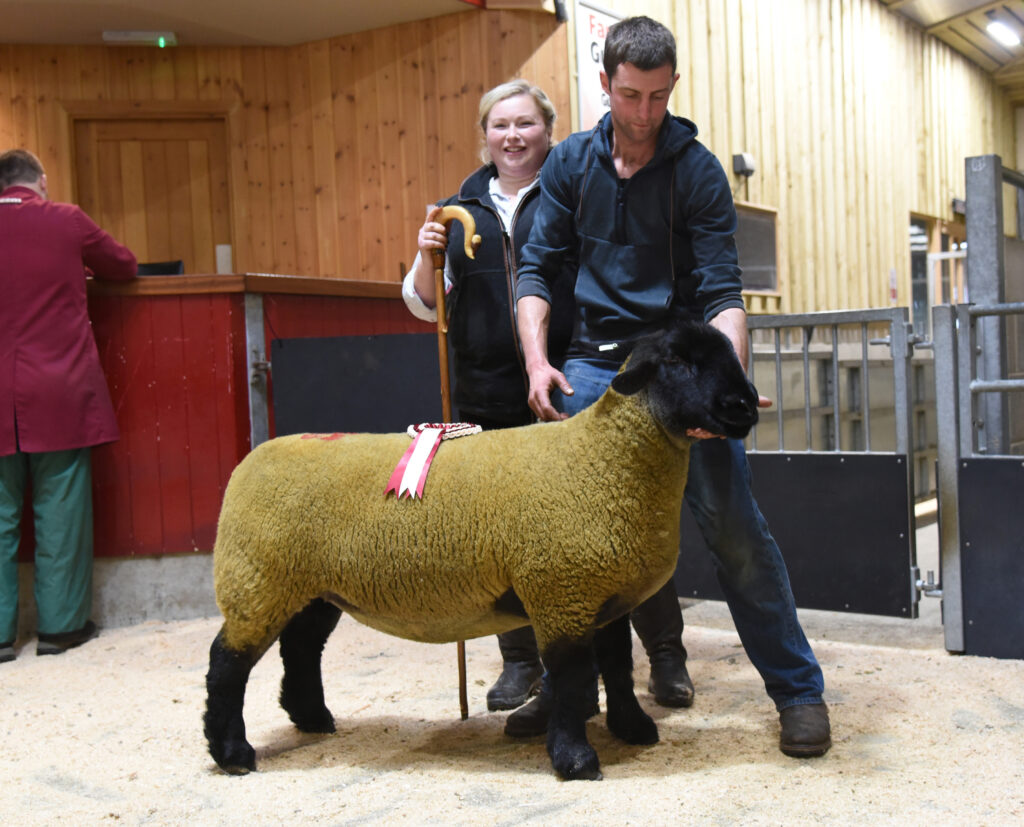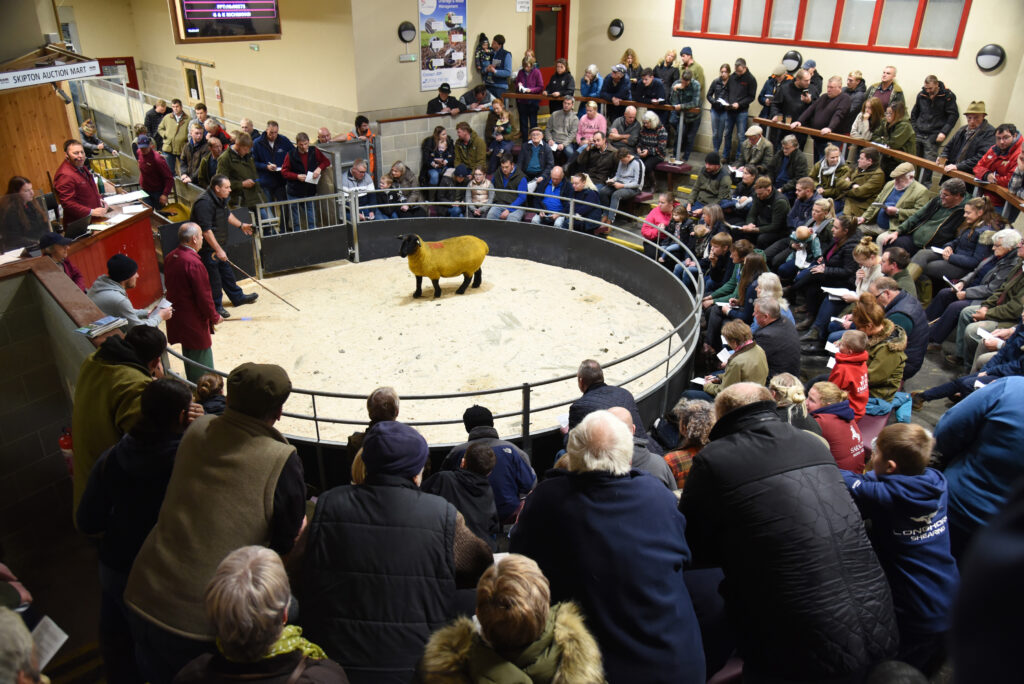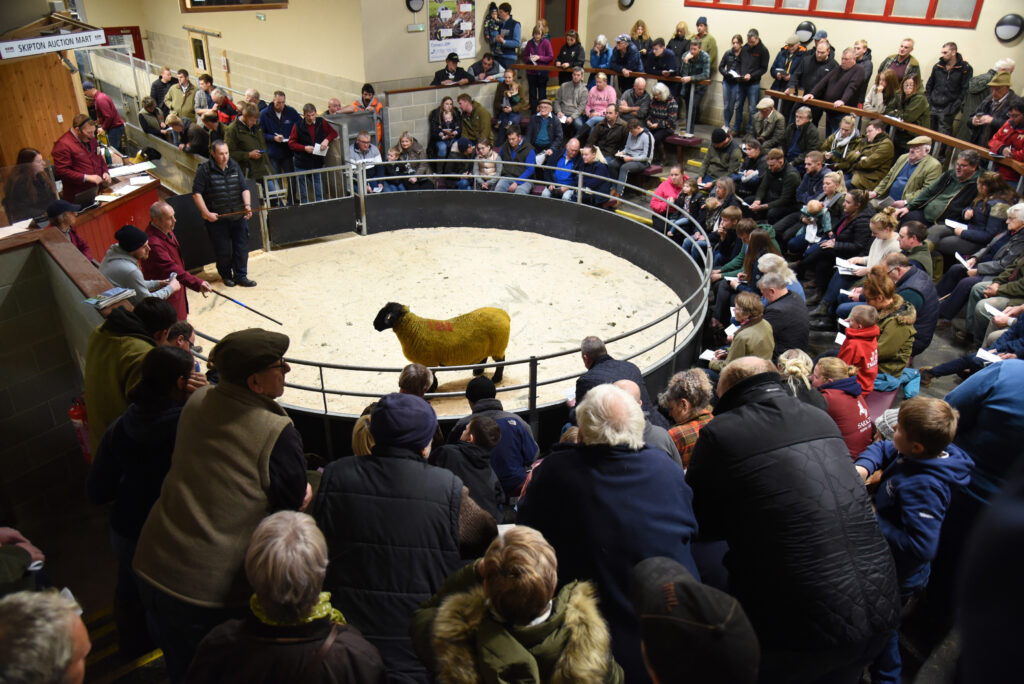 If using pics please credit Adrian Legge Photography