The 2021 section champion, Alistair Lawn, of Skipton, returned to successfully defend his title, again with a home-bred shearling ram by a John Elliott Rawburn tup, out a home-bred dam. He sold for a section-topping 1,500gns to Angus Dean in Threshfield to cross with both North of England Mules and Texels.
All four tups in the Lawn pen were by the same sire, now into his third year on the 35-strong flock, with a second picked out as runner-up by Cononley show judge Robert Wade, before matching the red rosette winner's 1,500gns selling price when claimed by D&A Fenwick, of Gainsborough in Lincolnshire.
Liz Needham, who runs the Norfolk pedigree flock at Stainton, Kendal, consigned the first prize ram lamb and reserve champion, a semen-sired home-bred by the Northern Ireland tup, Forkins Mcoy. The dam is a gimmer shearling by Stonehills Great Yorkshire, bred by the Riby family in Fraisthorpe, Bridlington, and later acquired after being picked out as champion at 2017 Great Yorkshire Show which Liz judged during her year as Suffolk Society president. Having stood reserve breed champion at Westmorland on his only other show outing, the reserve headed its class prices at 920gns when purchased by TA Blair, of Thornton-Cleveleys, near the Fylde Coast.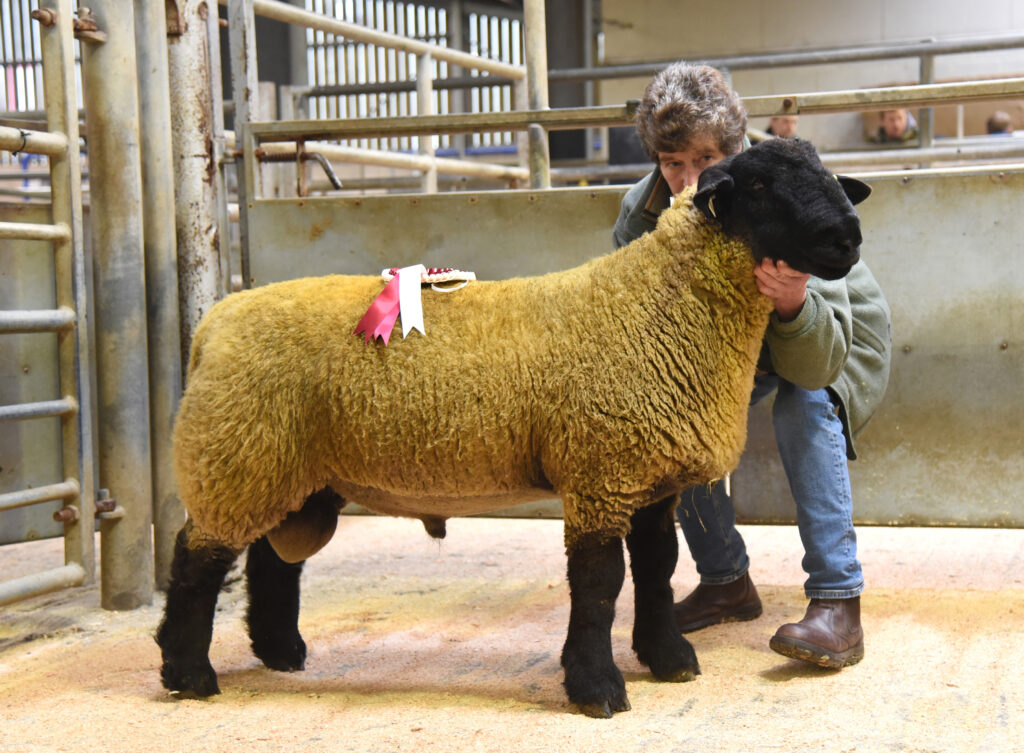 A tremendous turnout of tups in the Suffolk ring saw trade for all goods on a high, the best runs of shearlings selling at 750gns-plus, with middle runs around 500-700gns, a few others at 300-450gns. The overall shearling ram average was £698 (2021 £621)
Of the ram lambs, strong framed types were easily sold at 800gns-plus, the next grade at 350-500gns, with all making above 250gns and selling to an overall average of £507 (2021 £559).