Strong Commercial Demand for Suffolks at Carlisle Sale
Date: 5th August 2021
Judge: Mark Priestley, Limestone Flock
Auctioneers: Harrison & Hetherington
The annual show and sale of the North of England Branch Pedigree Suffolk breeding stock was held Carlisle on Friday the 5th of August. The sale commenced at 11.30 am under the appointed Auctioneers Harrison and Hetherington at the Borderway Mart with almost 50% of sheep sold heading to commercial producers.
The top price at the Sale was 7,000gns for the Salopian Solid Gold sired Lot 398 ram lamb from TJ & CR Boden's Cheshire based Sportsman flock. Out of a Strathbogie A Kind of Magic sired Sportsman dam, he was bought by Stuart Lathangie (Fife), Alastair Jackson (Dumfriesshire), James Wallace (Wigtownshire) and Mark Priestley (Northern Ireland).
Next on the money list was Sportsman's other entry in the sale with the hammer falling at 5,000gns for Lot 399, a full brother of the top priced 7,000gns. This January born ram lamb is off to Ireland to breeder Sean O'Gorman from Co Dublin.
Myfyr Evans' (Denbigshire) Show Champion was next at 3,200gns. Sired by the 90,000gns Ardlea Arbennig out of a Strathbogie Strativarious sired Lakeview dam, Pamela Lupton purchased this ram lamb for her Kexbeck flock based in North Yorkshire.
Two lots then sold for 2,200gns, Aberdeenshire breeders R & P Machray's Cairness Glenmorangie sired lot 436 went to G Riley of Carnforth (Lancashire) and Garner & Son (Horncastle, Lincolnshire) purchased Myfyr Evans' Lot 464, another Arbennig sired lamb. C Whitticase & Son's Crewelands Kingpin sired Lot 454 was knocked down to Mrs Leeming from North Yorkshire.
Three pens averaged over 1,000gns for 3 or more ram lambs sold. The best average was achieved by Stephen Buckley's Sitlow Flock pen at 1,126 gns getting 1,500gns, 1,400gns and 480gns. C Whitticase & Son's Glanmarton flock pen averaged 1,100gns for 4 sheep sold with a top of 2,100gns and L Hutchinson's Howgillfoot flock pen had an average of 1,017gns for three ram lambs sold with a top of 1,400gns.
The top priced shearling ram was from Anthony Glaves pen 1,600gns bought by A & HC Smith from Hawick. Top priced female was Stephen Bolland's (Wharfe Flock) gimmer bought by Keith Thomas from Staffordshire for 1,700gns. The top price Ewe Lamb was from Andrew Hambleton's Dovetale flock pen and sold for 800gns to S Ryder from Cumbria.
The sale was a great success selling more sheep at a higher value and a better average than last year with ram lambs in particular performing well with an average increase of £140 on 2021. Once again, commercial farmers were out in force with almost 50% of all sheep sold going to supplying this key sector.

Robin McIlrath, CEO
Sales Averages:
Ram Lambs 77% clearance for 88 sold averaging £921. 7,000gns top for Sportsman's lot 398 bought by Pyeston, Topgun, Claycrop and Limestone Suffolks.
Shearling Rams 74% clearance for 17 sold averaging £827. 1,600gns top for A Glaves' Lot 360 bought by A&HC Smith (Hawick).
Ewe Lambs 83% clearance for 15 sold averaging £538. 800gns top for A Hambleton's Lot 327 sold to S Ryder (Carlisle).
Gimmers 95% clearance for 18 sold averaging £946. 1,700gns top for S Bolland's Lot 306 sold to K Thomas (Staffordshire).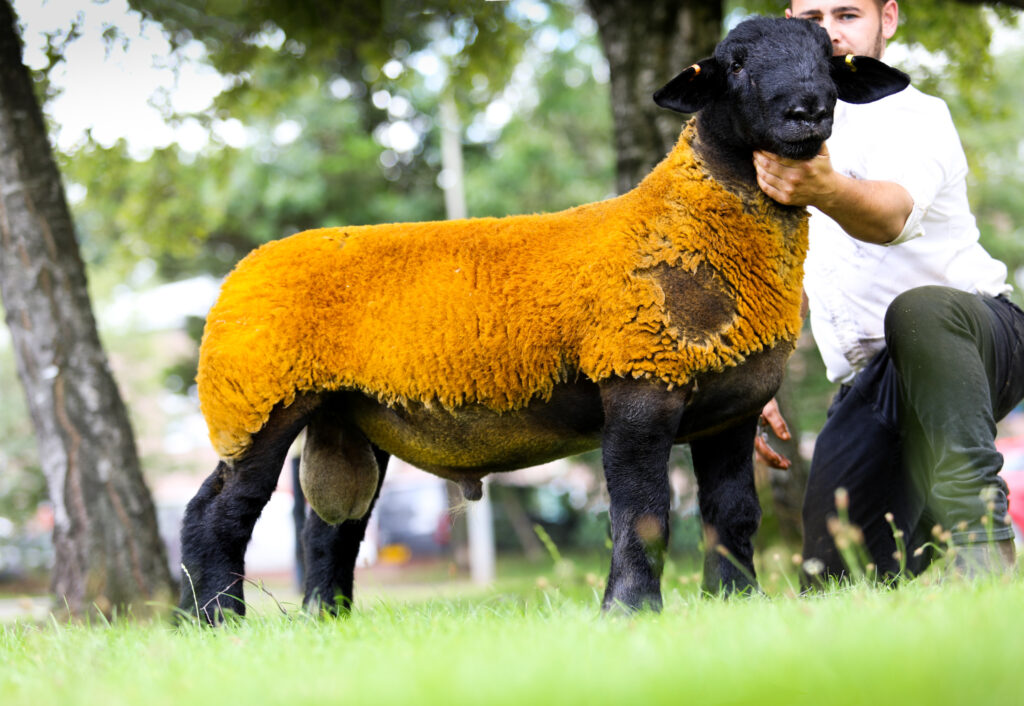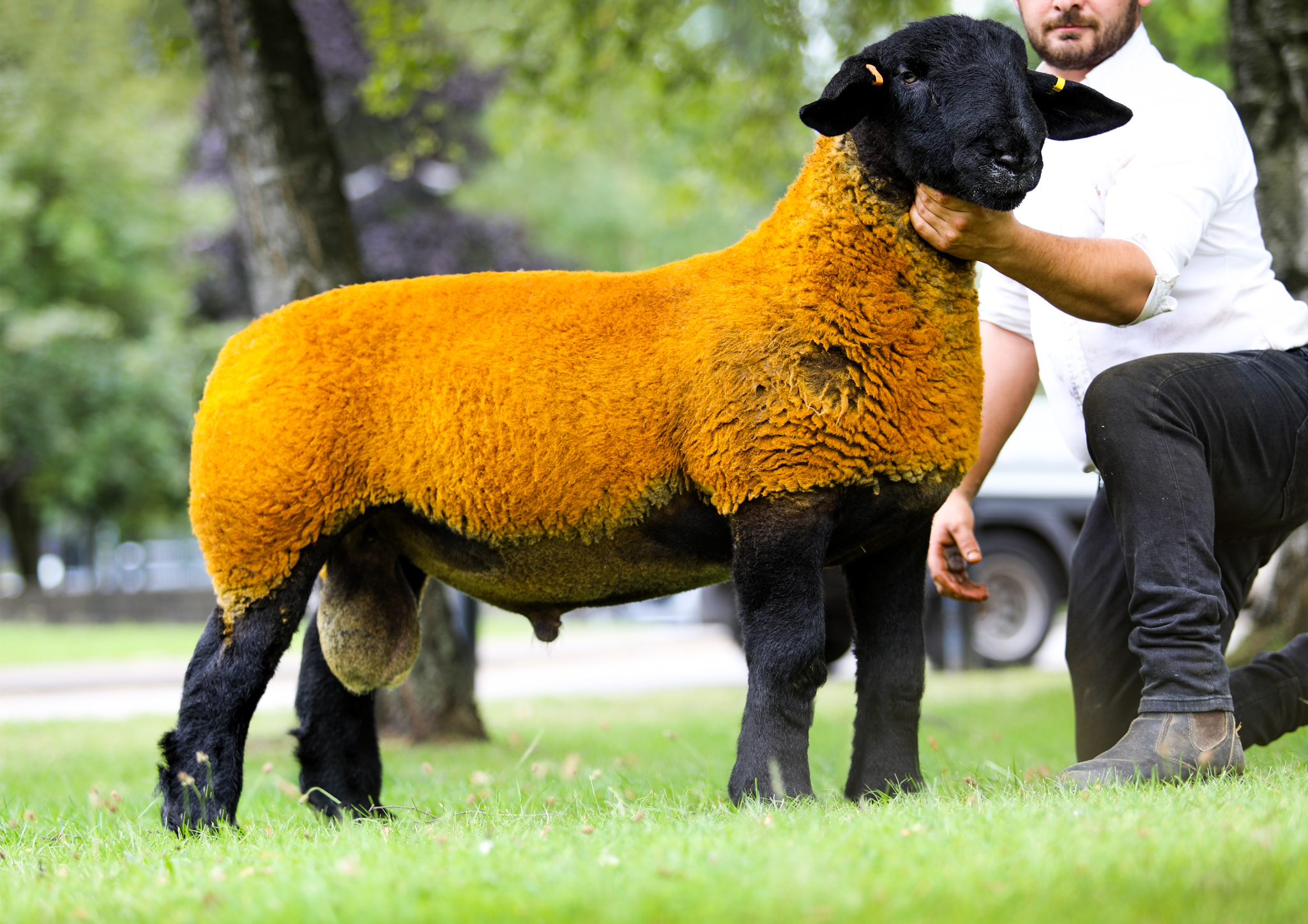 Show Results:
Class 8 Champion Sheep in Show
Overall Champion lot 463 Ram Lamb from Myfyr A Evans (Rhaeadr)
Reserve Champion lot 488 Ram Lamb from James T Cannon (Redbrae)
Class 7 Champion Male Sheep in Show
M Evans Lot 463
Reserve J Cannon Lot 488
Class 6 Champion Female Sheep in Show
Female Champion lot 327 Ewe Lamb from Andrew Hambleton (Dovedale)
Reserve Female Champion lot 306 Shearling Gimmer from Stephen J Bowland (Wharfe)
Class 3 Shearling Ram
1 Stephen Boland
2 Andrew Reed
3 Pamela Lupton
Class 4 Single Ram Lamb
1 J Cannon
2 C Boden
3 J Wallace
Class 5 Best Pair of Ram lambs
1 M Evans
2 Black
3 J Wallace