Date: Thursday 21st July & Friday 22nd July 2022
Sponsors: JC Environmental Solutions Auctioneers: Lawrie & Symington
Show Judges: Mr Paul Delves, Bridgeview Flock & Mr John Barclay, Mid Brockloch Farm
Suffolks Continue Upward Popularity Trend at Lanark
Lanark on Friday was once again the location for another successful Suffolk Sale. With 173 ram lambs sold, a 22% increase on 2021, at an average of £3,370 and an 82% clearance. Suffolk CEO, Robin McIlrath said "this has been an excellent sale and although the top prices quite rightly take the headlines with twelve 5 figure lots, it is also worth noting that 35% of ram lambs sold went to commercial buyers."
Topping the sale at 75,000gns was John Gibb's (Cairnton Flock) Bridgeview Belvenie sired lot 142 out of a Baileys Rock Solid sired ewe. This excellent tup was placed third in the Open Ram Lamb class by judge Paul Delves of Powys and was bought by Stephen Sufferin for his Northern Ireland based Crewelands flock. The dam is one of Cairnton's top breeding ewes and is the Grand Dam of the 30,000gns Cairnton Strik.
Next on the money list was TJ & CR Boden's (Sportsman Flock) Show Champion lot 151, with the hammer falling at 60,000gns and purchased by Phil Poole for his Shrewsbury based Salopian flock. Sired by the 2021 record breaking 200,000gns Salopian Solid Gold out of a Birness Muzza sired Ballynacannon ewe, this was the first of a run of 5 Solid Gold sons all selling for five figures at an average of 25,800gns out of the Sportsman pen. Lot 155 out of a Stockton dam was purchased for 30,000gns by Jed Sharp for his Worcestershire based Hawshill flock. The hammer fell on lots 152 and 156, both full sisters of 155, for 15,000gns and 13,000gns respectively with lot 152 purchased by Steven Buckley for the Derbyshire based Sitlow flock, and 156 heading north to Aberdeenshire to George L Stuart's renowned Birness Flock. Lot 153 is out of a Sportsman dam and was a joint purchase for 11,000gns, bought by Gray and Son of Lanark (Langside Flock) and Mr Peter Gray of Gibsons & Co (Scrogton Flock) of Ayrshire.
The third highest price on the day went to James C Innes' (Strathbogie flock) lot 233 with the hammer falling to Fife's S Craft (Limestone Flock) at 40,000gns for this Stockton Sniper's Son sired tup out of a Castleisle Knockout sired Strathbogie dam who has also bred lambs to 22,000gns and 15,000gns and has also bred gimmers to 10,000gns and ewe lambs to 3,000gns.
The pick of S Lathangie's Pyeston pen were full brothers from lots 61 and 64 selling for 38,000gns and 32,000gns respectively. The Limestone Marksman sired lot 61 out of a Birness ewe was bought by The Barbour family for their Solwaybank flock based in Dumfreisshire. The Castleisle Capaldi sired dam was the first prize ewe and reserve female champion at the Royal Highland Show this year and was purchased for 3,800gns from the Birness flock in 2020. Lot 64 was purchased by a syndicate comprising of Howgillfoot (Cumbria), Balquain (Aberdeenshire), Kings (Devon) and Cadgerford (Aberdeenshire) flocks.
The Crewelands Apollo sired Lot 131 from Iain and Judith Barbour's Solwaybank pen sold for 20,000gns to Stephen Sufferin (Crewelands Flock) from Northern Ireland and George L Stuart's lot 243 (Birness Flock) was purchased by TJ & CR Boden for their Sportsman Flock for the same money.
The last five figure sale was from James Young's Muirton Flock (lot 207) bought by J C Innes for his Aberdeenshire based Strathbogie Flock.
This was the second year with the female sale on Thursday evening. Trade was brisk with 16 Gimmers averaged £1,822 and 5 Ewe Lambs averaged £693. The top gimmer from D P & RA Delves Bridgeview Flock was bought by Northern Ireland breeder M & C McNally for their Benedyglen Flock for 6,200gns and the top price Ewe Lamb was from J C Innes Strathbogie pen and was bought for 1,000gns by the Bowdler family for their Tombridge Flock in Shropshire.
AVERAGES (Top 6 Pens 3+ sales)
| | | | | | |
| --- | --- | --- | --- | --- | --- |
| Name | Flock | Total | Sold | Top | Average (gns) |
| T J & C R Boden | Sportsman | 129,000 | 5 | 60,000 | 25,800 |
| J Gibb | Cairnton | 78,250 | 5 | 75,000 | 15,650 |
| J C Innes | Strathbogie | 43,200 | 3 | 40,000 | 14,400 |
| S Lathangie | Pyeston | 76,300 | 6 | 38,000 | 12,717 |
| I & J Barbour | Solwaybank | 28,300 | 6 | 20,000 | 4,717 |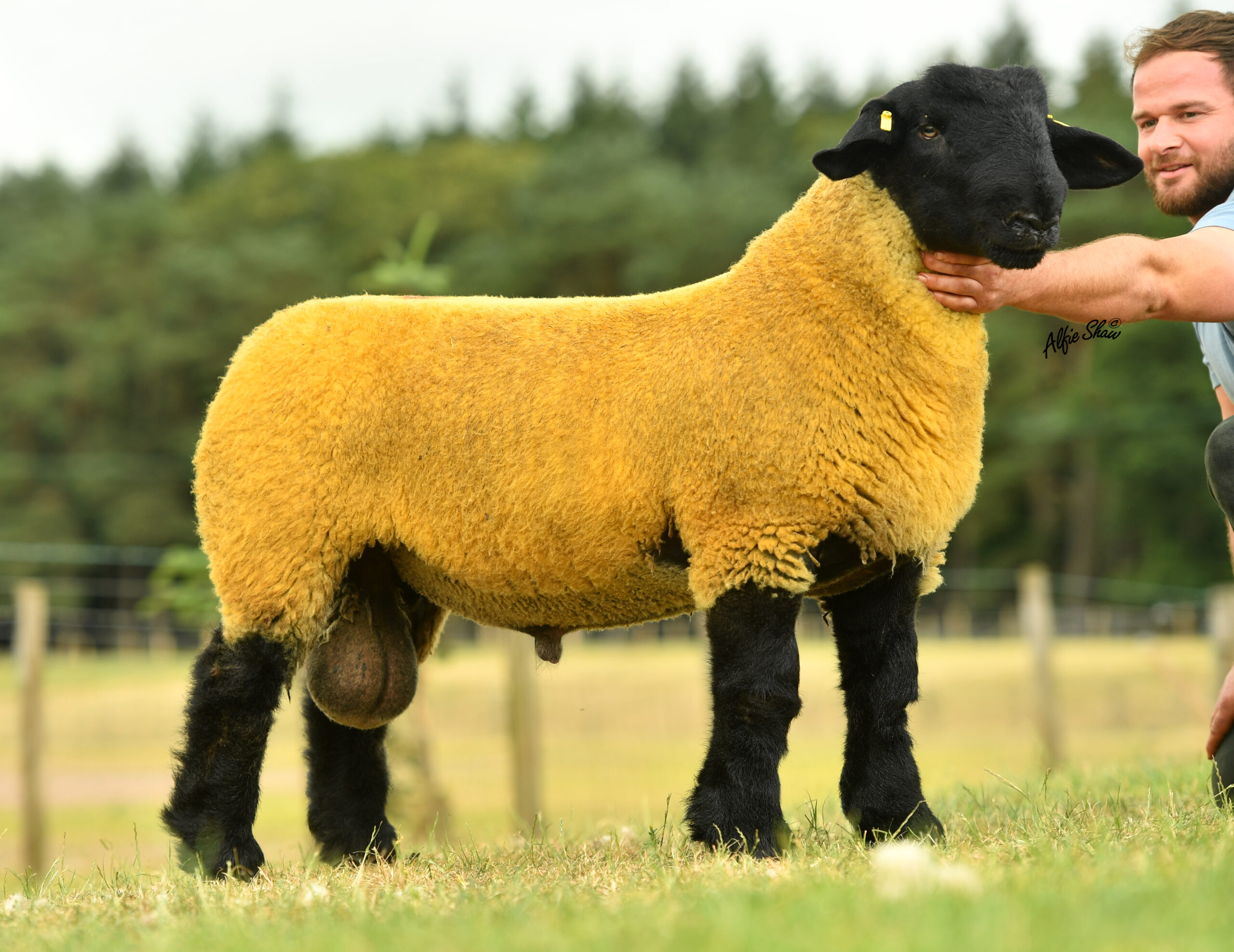 SHOW RESULTS – Thursday 22nd July 2022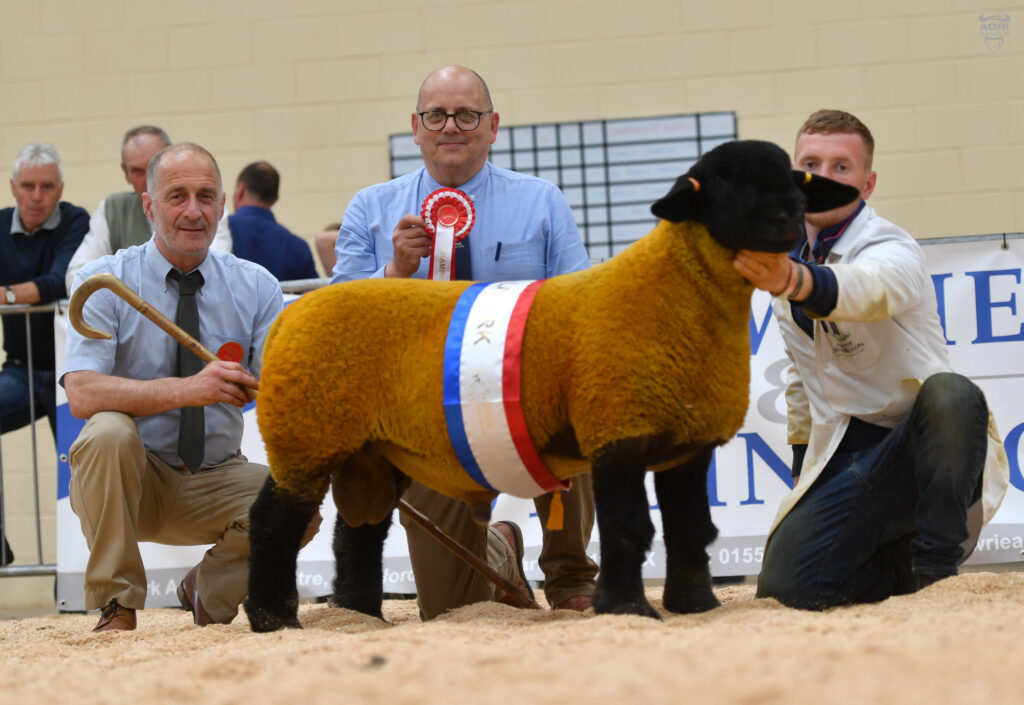 OVERALL CHAMPION – LOT 151 Boden & Davies
RESERVE OVERALL CHAMPION – LOT 199 Craft
MALE CHAMPION – LOT 151 Boden & Davies
RESERVE MALE CHAMPION – Lot 199 Craft
FEMALE CHAMPION – LOT 12 Nicholson
RESERVE FEMALE CHAMPION – LOT 42 Lorimer
SCOTTISH BREED CHAMPION – LOT 199 Craft
RESERVE SCOTTISH BREED CHAMPION – LOT 242 Stuart
LANARK: Elite Commercial Ram Lamb
1 G L Stuart Lot 242
2 A Wilson Lot 137
3 S & W Tait Lot 48
LANARK: Gimmer Class
1 B Nicholson lot 12
2 J Innes lot 5
3 P Reid lot 4
LANARK: Ewe Lamb Class
1 J A Lorimer lot 32
2 J Innes Lot 28
3 J A Lorimer Lot 33
LANARK: Novice Ram Lamb Class
1 S Craft lot 199
2 D Jones Lot 70
3 Boden & Davies lot 155
LANARK: Open Ram Lamb Class
1 Boden & Davies Lot 151
2 M Priestley lot 148
3 J Gibb lot 142
LANARK Pen of Three
1 Poole
2 Tait
3 Innes
LANARK YOUNG HANDLERS U16
1 Noah Taylor
2 Faith Miskelly
3 Lara Taylor
4 Alistair Howie
5 B Taylor
6 Matthew Shelley
7 Marieke De
LANARK YOUNG HANDLERS 16-26
1 Hannah Lorimer
2 Murray Stuart
3 Gemma Stuart
Show presentation photos: