Cairness Ram Lamb tops 5000gns
Date: 6th August 2021
Judge: Myfyr Evans, Rhaeadr Flock
Sponsor: Natural Stockcare Ltd.
Auctioneers: Harrison & Hetherington
Topping the trade was the best from Jimmy Douglas' Cairness flock from Woodhead of Cairness, Fraserburgh. He is by Cairnton Prince, a tup lamb retained for breeding last year by John Gibb that was a son of Creagislay Cracker, and bred from a home-bred ewe. Final bidders were neighbouring breeders, the Moir brothers, William and David, Cairness, who also bought a Kexbeck lamb at 1800gns from North Yorkshire breeder, Pamela Lupton. He is by Perrinpit Game Set.
Second top price was 3000gns paid for the No 3 from Steven Buckley's Sitlow pen from Dove Holes, Buxton, Derbyshire. He is by Logiedurno Sonny Bill, a tup that stood reserve male champion at the Royal Highland Show and reserve breed champion and inter-breed pairs at the Royal Welsh Show in 2019. Bred from a Midhope Hans Solo sired-home-bred dam, he travels down to Wales with the Jones family, Commins Coch, Machynlleth.
Topping the shearling rams at 2300gns was Claycrop Colada from JJ Tooze, Old Medwyn Mill, Spittal, Carnwath. Bred by James Wallace and bought last year at Lanark, he is by Castleisle Cobra and out of a ewe by Strathbogie Samurai. Colada also sold down to Wales this time with Messrs Owen, Newborough, Gwynedd.
The first prize shearling made 1900gns for AJ and WJ Reed's Beaconhill flock from Devon. A Brijon Magician son, out of a home-bred dam by Beaconhill Noble Lad, he sold to Messrs Towers and Sons, Tunstall, Carnforth. Another three ram lambs made 1800gns, with the first, a Collessie Cut Above-sired ram lamb from Ronnie Black and sons Mike and Pete, Newton Of Collessie, Ladybank, selling to John Christie, Westcarse, Stirling. Stephen Bolland, Bolton Abbey, Skipton, made the same money with a Solwaybank Cracker-sired lamb purchased by Elaine Wilkie, South Shaw Cottage, Berryscaur, Boreland, Lockerbie and, Thurso-based breeder, B Swanson, East Murkle, went to 1800gns for a lamb from John Gibb's Cairnton flock from Fraserburgh. He is sired by Mullaghboy Mustang.
The reserve overall champion topped the females at 1600gns. Another from Pamela Lupton's Kexbeck flock, this gimmer is by the 4000gns Rhaeadr Jet Set, and out of a home-bred ewe by Rhaeadr Reggae. She was knocked down to Messrs Evans, Llanrhaeadr, Denbigh.
Kexbeck also sold the top price ewe lamb at 900gns to Messrs Thomas, Hilderstone, Stone, Staffordshire. First in her class at the pre-sale show, she is a daughter of Rhaeadr Welsh Wizard.
Forfar-based breeder, James Scott, sold his second prize gimmer for 1100gns to Messrs Cross, Barnacre, Preston. She is by Spittal XL and out of a Cairness Stylistic sired-dam.
Averages: 14 shearling rams, £1117.50 (+£382.50 for six more sold); 74 lamb rams, £912.65 (+£229.79 for 13 fewer); 13 gimmers, £844.04 (+£291.96 for six fewer); eight ewe lambs £616.88 (+£194.78 for two less).
Scottish Farmer- 10th August 2021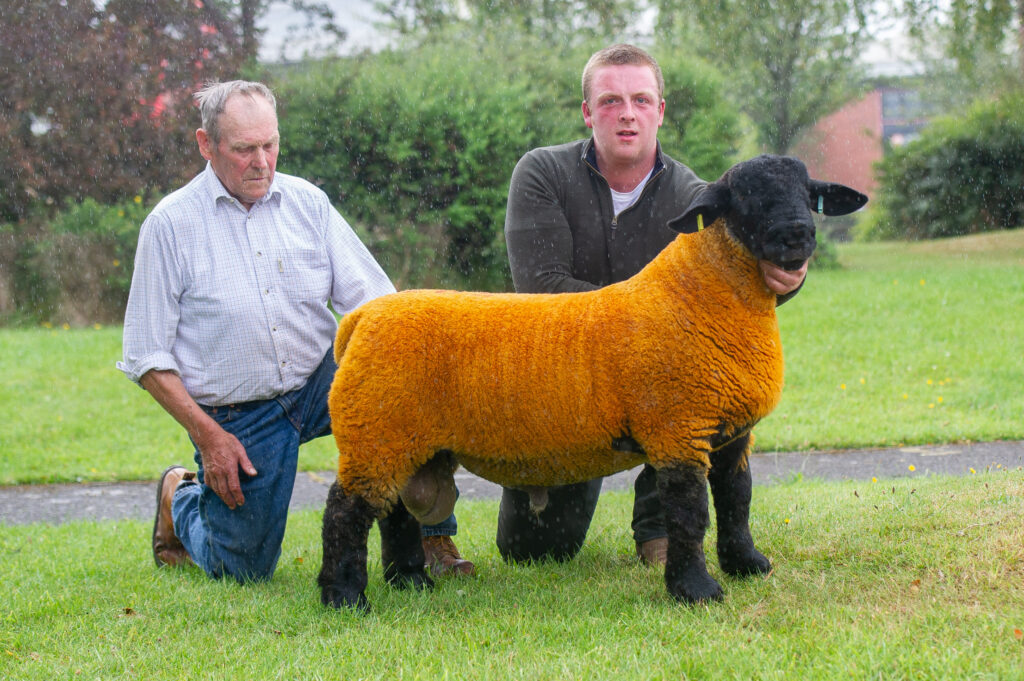 Show Results
Male Champion and Supreme Champion
Lot 450 Stephen J Boland
LVX:21:03762 by Solwaybank Cracker
Reserve Male Champion
Lot 440 Ronald H Black
416:21:02026 by Lakeview Fifer
Female Champion and Reserve Supreme Champion
Lot 361 Pamela Lupton
KXL:20:00569 by Rhaeadr Jet Set
Reserve Female Champion
Lot 360 James Scott
PPZ:20:00252 by Spittal XL
Class 1 Single Shearling Ewe
1st Lot 361 Pamela Lupton
KXL:20:00569 by Rhaeadr Jet Set
2nd Lot 360 James Scott
PPZ:20:00252 by Spittal XL
3rd Lot 365 Katie Brannen
NZD:20:00412 by Burnview Battlecry
Class 2 Single Ewe Lamb
1st Lot 370 Pamela Lupton
KXL:21:00634 by Rhaeadr Welsh Wizard
2nd Lot 373 Mark Evans
Y31:21:03743 by Cadgerford Kinross
3rd Lot 372 James Scott
PPZ:21:00293 by Strathbogie a Kind of Magic
Class 3 Single Shearling Ram
1st Lot 397 AJ & WJ Reed
KRZ:20:01242 by Brijon Magician
2nd Lot 389 Antony Glaves
M17:20:05249 by Strathbogie Black Magic
3rd Lot 396 Pamela Lupton
KXL:20:00583 by Rhaeadr Jet Set
Class 4 Ram Lamb
1st Lot 450 Stephen J Boland
LVX:21:03762 by Solwaybank Cracker
2nd Lot 460 Andrew Hambleton
STZ:21:017836 by Forkins Figaro
3rd Lot 483 Pamela Lupton
KLR:21:01310 by Mullaghboy Mustang
Class 5 Best Pair of Ram Lambs
1st Lots 440 & 442 Ronald H Black
416:21:02026 & 416:21:02046 by Lakeview Fifer
2nd Lots 451 & 452 Stephen J Boland
LVX:21:03748 & LVX:21:03747 by Solwaybank Cracker
3rd Lots 447 & 448 James T Cannon
JKA:21:04676 by Forkins Samson & JKA:21:04685 by Benedyglen Black Caviar