Young Breeders make their mark at the Suffolk National Championship & Sale
Date: 30th & 31st July 2021
Judge: Mr William Fleming, Hallhill Flock
Sponsor: Norbrook
Auctioneers: J Straker Chadwick and Sons and Halls
When the hammer fell at 16,000gns for Finn Christie's (Maidenstone Flock) lot 162 it has marked a new generation of young Suffolk breeders beginning to make their mark. Young breeders also appearing in the top prices were Lilia Hutchinson (Howgillfoot Flock) from Cumbria getting 7,000gns for Lot 129 and Dafydd Jones' Frongoy Flock Breed Champion (Lot 166) selling for 5,000gns.
The top price at the Norbrook sponsored Sufolk Sheep Society National Sale in Shrewsbury on Saturday 31st July was 16,000gns for the January born Crewelands Kingpin sired ram lamb from Finn Christie's Aberdeenshire based Maidenstone flock. Out of a Limestone Legacy sired Birness dam he was bought by Chris Holmes from Worcestershire (Rookery Flock) and Holly Bowdler from Shropshire (Tombridge Flock).
Next on the money list at 12,000gns was J C Innes' Strathbogie Lot 145. This Forkins McCoy sired ram lamb out of a Strathbogie A Kind of Magic sired dam was bought by breeders, Dennis Taylor, Leslie Liggett and Ronan McLaughlin for their Ballynacannon, Carony and Ballyboe flocks. The Strathbogie pen had an excellent average at £3,914 for seven ram lambs presented and sold, all making four figures.
James Alexander bought Lilia Hutchinson's lot 129 for 7,000gns for his Co Antrim based Jalex Flock. This ram lamb was sired by Howgillfoot Sniper out of a Lakeview dam. G L Stuart's (Birness Flock) Forkin's Firecracker sired Lot 150 was bought by Mrs M J Cornish for her Devon based Mardle Suffolks for 6,000gns. Another strong pen, Birness averaged £3,220 for six ram lambs presented and all sold, again all making 4 figures.
There were 5 lots getting 5,000gns including Breed Champion (lot 166) from Dafydd Jones' Frongoy pen. This Strathbogie Rock On Tommy sired lamb was purchased by William Medforth for his Caernarfon based Penrhyn FLock. G & FJ Soulsby bought Northamptonshire based MJR & JA Pinny's (Alloaks Flock) Redbrae Lynx sired lot 93 for their Williamsgill Flock in Cumbria. The Reserve Champion also went for 5,000gns. This Tom and Aimee Mogford (Mogford Flock) bred lamb was by Mullaghboy Goliath and will be heading to Scotland for G L Stuart's Birness Flock and Stewart Lathangie's Pyeston Flock.
The best average for more than 3 ram lambs sold was achieved by first time entrant to the National Sale, Jed Sharp from Worcestershire with his Hawshill flock. His first two lambs through the ring (lots 201 & 202) both got 5,000gns, the first bought by Pamela Lupton for her Kexbeck Flock in Yorkshire and the second going to Stewart Craft's Lakeview Flock in Fife. The hammer fell on lot 203 at 2,600gns. All three rams were by Frongoy Firenze out of a Hawshill dam.
Top priced female was DP and RA Delves' (Bridgeview Flock) reserve shearling ewe (lot 11). Jed Sharp (Hawshill Flock) bought this Frongoy Firenze sired ewe out of a Forkins dam for 6,000gns. The top priced ewe lamb at 2,400gns was MJR and JA Pinny's (Alloaks Flock) female champion bought by the Hiddleston family (Irongray Flock) from Dumfriesshire.
Robin McIlrath, CEO of the Suffolk Sheep Society said "this has been a super sale with something for everyone and over 40% of the ram lambs going to commercial farmers. Its also great to see our younger breeders beginning to come to the fore. A big Congratulations to Finn Christie for topping the sale, and also to Dafydd for winning the Championship." Robin went on to say "the Society has invested heavily in attracting and developing Suffolk Youth with reduced fees and our very successful Youth Championships. The future certainly looks very good for Suffolks!"

CEO, Robin McIlrath
Sales Averages:
Ram Lambs:
Top: £16,800
Ave: £1,620
Clearance: £82% (133)
Shearling Ewes:
Top – £6,300
Ave: £1,138
Clearance: 100% (13 sold)
Ewe Lambs:
Top: £2,520
Ave: £1,050
Clearance: 100% (7 sold)
Shearling Rams:
Top: £1,575
Ave: £945
Clearance: £75% (3 sold)
| | | | |
| --- | --- | --- | --- |
| LOT NO. | FLOCK | PRICE gns | BUYER |
| 162 | MAIDENSTONE | 16,000 | CJ Holmes & H Bowdler |
| 145 | STRATHBOGIE | 12,000 | PDW Taylor, L Liggett & R McLaughlin |
| 129 | HOWGILLFOOT | 7,000 | J Alexander |
| 11 | BRIDGEVIEW | 6,000 | J Sharp |
| 150 | BIRNESS | 6,000 | Mardle Suffolks |
| 93 | ALLOAKS | 5,000 | G & FJ Soulsby |
| 166 | FRONGOY | 5,000 | W Medforth |
| 196 | MOGFORD | 5,000 | GL Stuart |
| 201 | HAWSHILL | 5,000 | P Lupton |
| 202 | HAWSHILL | 5,000 | S Craft |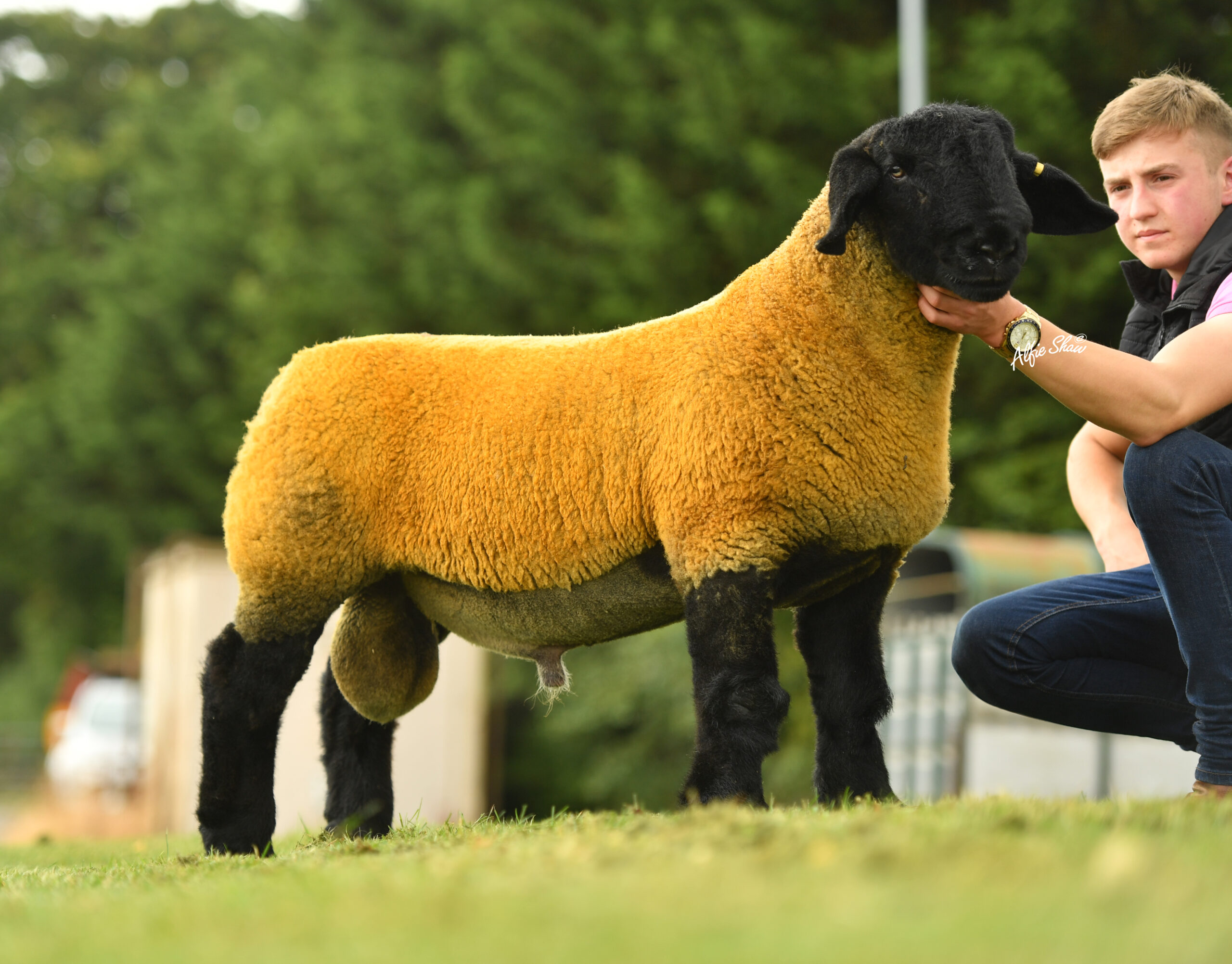 SHOW RESULTS
Male Champion and Overall Breed Champion
1st Lot 166 Mr Dafydd G Jones
NAT:21:08069 by Strathbogie Rock on Tommy
Reserve Male Champion and Overall Reserve Breed Champion
2nd Lot 196 Mr & Mrs Tom & Aimee Mogford
PSJ:21:00545 by Mullaghboy Goliath
Female Champion
1st Lot 21 Mr & Mrs JR & JA Pinny
J65:21:04346 by Harpercroft Bullion
Reserve Female Champion
1st Lot 14 Mrs Pamela Lupton
KXL:20:00556 by Limestone Limousine
Class 1 Single Shearling Ewe
1st Lot 14 Mrs Pamela Lupton
KXL:20:00556 by Limestone Limousine
2nd Lot 11 DP & RA Delves
BLN:20:00783 by Frongoy Firenze
3rd Lot 7 Mr Thomas Blunt
NLB:20:00317 by Stockton Seabiscuit
Class 2 Single Ewe Lamb
1st Lot 21 Mr & Mrs JR & JA Pinny
J65:21:04346 by Harpercroft Bullion
2nd Lot 22 Mr & Mrs M J R & J A Pinny
J65:21:04326 by Sneaton Sneaky
3rd Lot 16 Mrs Pamela Lupton
KXL:21:00619 by Rhaeadr Welsh Wizard
Class 3 Single Shearling Ram
1st Lot 27 Dafydd Pugh Roberts
J99:20:02214 by Salopian Ted
2nd Lot 23 Anthony Glaves
M17:20:05185 by Savernake Kiwi
Class 4 Signet Recorded Ram Lamb
1st Lot 188 Mr SJ Buckley
45Z:21:04475 by Logiedurno Sonny Bill
2nd Lot 41 Mr John Key
L20:21:01981 by Ortum Trump Card
3rd Lot 190 Mr & Mrs Bruce & Ruth Cook
C18:21:00357 by Sitlow Social Media
Class 5 Single Ram Lamb
1st Lot 166 Mr Dafydd G Jones
NAT:21:08069 by Strathbogie Rock on Tommy
2nd Lot 196 Mr & Mrs Tom & Aimee Mogford
PSJ:21:00545 by Mullaghboy Goliath
3rd Lot 150 Mr George L Stuart
1W:21:03283 by Forkins Firecracker
Class 6 Pen Of Three Ram Lambs
1st Lots 135,136 & 140 Mr L & M Liggett
DBB:21:01165, DBB:21:01198 & DBB:21:01135
2nd Lots 151, 152 & 155 Mr George L Stuart
1W:21:03226, 1W:21:03251 & 1W:21:03204
3rd Lots 143, 144 & 146 Mr James C Innes
SUT:21:05863, SUT:21:05832 & SUT:21:05829
Class 7 Ram Lamb with Best Gigot
1st Lot 113 Mr Dennis Taylor
KKW:21:01577 by Tolgus Pretty Boy
2nd Lot 37 Mr Ross Lawrence
NHL:21:00456 by Salopian Sierra
3rd Lot 163 Finn Christie
WHU:21:01275 by Howgillfoot Sniper