Salopian Solid Gold Smashes Suffolk Sheep Record at 200,000gns
Date: Thursday 22nd July & Friday 23rd July 2021
Sponsors: JC Environmental Solutions & Norvite
Auctioneers: Lawrie & Symington
Judge: Alastair Gault, Forkins Flock.
When the hammer fell at 200,000gns for Phil Poole's (Salopian Flock) lot 129, the aptly named Salopian Solid Gold, at the Suffolk Sheep Society's Scottish Area Sale on Friday 23rd July, it more than doubled the previous record of 90,000gns set in 2004. This lamb had already caught the eye of Championship Judge, Alastair Gault (Co Antrim) when it was placed as winner of the Novice Class and Reserve in the Open Ram Lamb Class.
Breeder Phil Poole said "I knew we had a good lamb and we were looking forward to the sale. Salopian has always invested in excellent bloodlines but we certainly didn't expect to smash the Society record by 220 per cent!"

Philip Poole
The record breaking ram (V87:21:00850) was knocked down to Charlie Boden (Sportsmans flock) and Robert Jenkinson (Dunfell flock). The sire, Solwaybank Rock Solid, was the top priced ram at the 2017 Scottish Area Sale in Stirling where Phil paid 26,000gns to Iain and Judith Barbour. The dam is an Irongray Black Magic sired Stockton ewe (72H:16:03757) who was the Royal Welsh Show Breed Champion as both a Ewe Lamb and Shearling Ewe. The Salopian pen went on to average £36,713 for seven sheep sold. Lot 133, another Rock Solid sired lamb out of the same ewe was bought for 24,000gns by a consortium of I & J Barbour (Dumfriesshire), D P & R A Delves (Powys) and S Craft (Fife). The hammer also fell on a full brother for 10,000gns to the same consortium. Other sheep from the pen sold for 8,000gns (lot 134), 1,000gns (lot 131) , 900gns (Lot 135) and 850gns (lot 132). Salopian also won the 'Best Pen of 3 Ram Lambs' class in the Championship.
Mark Priestley's Limestone Flock set the early pace at this electrifying sale with the first ram lamb of the day (Lot 27) selling at 48,000gns and was one of ten lots selling at five figures or above. This Forkins McCoy sired lamb out of a Limestone Aston Martin sired dam went to G L Stuart, Birness Flock (Aberdeenshire), S Lathangie, Pyeston Flock (Fife) R H Black, Collessie Flock (Fife), Claycrop Flock (Fife) and J I A Wallace (Wigtownshire). Another record for the sale, the highest price paid for a Northern Irish bred ram!
Two rams made 40,000gns, the first was from Stewart Craft's Lakeview Flock (Lot 194). Out of a Rookery Rodeo sired ewe by Salopian Scuderia, this ram was jointly bought by Dennis Taylor (Co Londonderry) for his Ballynacannon Flock and Iain and Judith Barbour for their Dumfriesshire based Solwaybank Flock. Also at 40,000gns was T J and C R Boden's Sportsman's ram sired by Strathbogie Ace out of a Stockton dam going to Mr Jed Sharp from Worcestershire for his Hawshill Flock.
Darragh McMenamin from Donegal, along with J G Douglas (Cairness Flock), with John Gibb retaining a share, paid 30,000gns for John Gibb's lot 30. A Cairnton Prince sired ram lamb out of a Cairnton ewe. Next on the money list was Dafydd Jones' (Frongoy Flock) lot 184 going for 25,000gns to Lilia Hutchinson's Howgillfoot Cumbria based flock and James Alexander from Co Antrim (Jalex Flock).
The Show Champion (Lot 107) from G L Stuart's Aberdeenshire based Birness Flock got 18,000gns going to a syndicate of Mark Priestley (Limestone Flock), Alastair Gault (Forkins Flock) and Andrew Wilson (Castleisle Flock). James Innes' Lot 204 was bought by Jones and Powell from Wales for 15,000gns.
Another first this year was the female sale on Thursday evening. Although entries were low, trade was brisk with 10 Gimmers averaged £2173.50 and 7 Ewe Lambs averaged £1350.00. The top gimmer from I & J Barbour's Solwaybank Flock was bought by Northern Ireland Breeder Stephen Sufferin for his Crewelands Flock for 3,500gns and the Ewe Lamb was from James Scott's Strathview pen and was bought for 3,000gns by T J & C R Boden for their Sportsman Flock in Cheshire.
Suffolk Sheep Society Chief Executive, Robin McIlrath said "There is a lot of uncertainty around with Brexit and its effect on the agri sector, so it was great to have an excellent day all round, obviously setting the breed record was the highlight, but with a 92% clearance rate (78% in 2020) and an outstanding average of £4,762 for 143 ram lambs sold, up from last years average of £2,993 for 161 ram lambs this has been an excellent sale. The female sale did really well and I'm sure we will see more entries next year based on the excellent prices on Thursday evening. Congratulations to everyone involved."

Chief Executive Robin McIlrath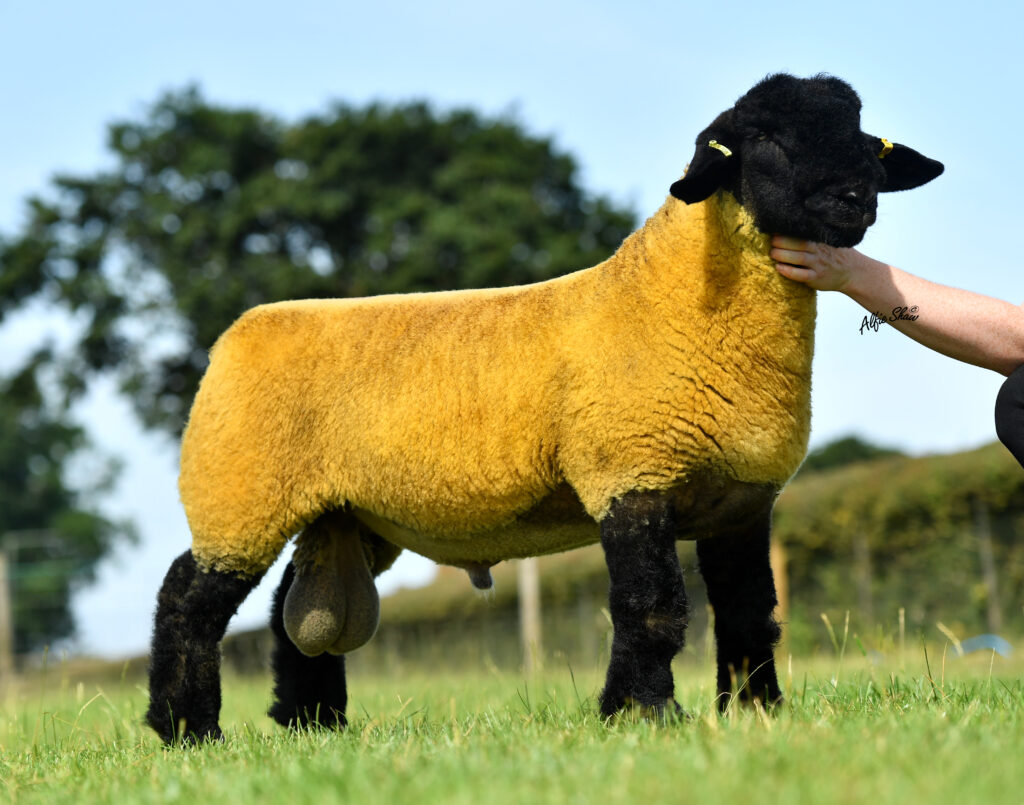 SHOW RESULTS – Thursday 22nd July 2021
Male Champion
Lot 107 Mr George L Stuart
1W:21:03207 by Salopian Scuderia
Reserve Male Champion
Lot 27 Mark J W Priestley
KPC:21:01708 by Forkins McCoy
Champion Ram Lamb bred in Scottish Area
Lot 107 Mr George L Stuart
1W:21:03207 by Salopian Scuderia
Female Champion
Lot 17 Mr James Scott
PPZ:21:00294 by Strathbogie A Kind Of Magic
Reserve Female Champion
Lot 4 Mr Ross Lawrence
NHL:20:00374 by Crewelands Megastar
Class 1 Young Handler (aged 8-12)
Duncan Gill Memorial Trophy
1st Faith Miskelly
2nd Isabella Taylor
3rd Lilia Hutchinson
Class 2 Young Handler (aged 13-16)
John Stuart Memorial Trophy
1st Hannah Lorimer
2nd Murray Stuart
3rd Gemma Stuart
Class 3 Elite Commercial Ram Lamb
1st Lot 191 Mr James I A Wallace
NCX:21:07734 by Burnview Bombay Sapphire
2nd Lot 112 Mr George L Stuart
1W:21:03221 by Salopian Scuderia
3rd Lot 101 by The Hiddleston Family
PWS:21:00861 by Kinbally Crash Ball
Class 4 Single Gimmer
1st Lot 4 Mr Ross Lawrence
NHL:20:00374 by Crewelands Megastar
2nd Lot 9 Mr James C Innes
SUT:20:04676 by Crewelands Kingpin
3rd Lot 6 DP & RA Delves
BLN:20:00765 by Salopian Scuderia
Class 5 Single Ewe Lamb
1st Lot 17 Mr James Scott
PPZ:21:00294 by Strathbogie A Kind Of Magic
2nd Lot 21 Mrs J A Lorimer
414:21:00717 by Forkins Dizzee Rascal
3rd Lot 24 Mr James C Innes
SUT:21:05867 by Forkins McCoy
Class 6 Novice Breeder in first three years at Scottish Area
1st Lot 129 Mr Philip W Poole
V87:21:00850 by Solwaybank Rock Solid
2nd Lot 124 JT & EA Midgley
CRD:21:04487 by Orion Jack Flash
3rd Lot 212 TJ & CR Boden
AAZ:21:00690 by Cairness Glenmorangie
Class 7 Open Ram Lamb
1ST Lot 107 Mr George L Stuart
1W:21:03207 by Salopian Scuderia
2nd Lot 27 Mark J W Priestley
KPC:21:01708 by Forkins McCoy
3rd Lot 216 Mr James T Cannon
JKA:21:04692 by Forkins Samson
Class 8 Pen Of Three
1st Lots 130, 131 & 133 Mr Philip W Poole
V87:21:00849, V87:21:00835 & V87:21:00841 by Solwaybank Rock Solid
2nd Lots 106, 108 & 110 Mr George L Stuart
1W:21:03229 by Forkins Firecracker, 1W:21:03210 by Salopian Scuderia, 1W:21:03208 by Forkins Firecracker
3rd Lots 217, 218 & 219 Mr James T Cannon
JKA:21:04693 by Forkins Samson, JKA:21:04679 by Benedyglen Black Caviar, JKA:21:04690 by Forkins Samson
Shepherds Prize
Craig Paterson, Cranorskie Flock