The Derryman family have been farming at Yarcombe in East Devon for over 100 years with a traditional mixed system including 120 British Friesians, followers and homebred beef cattle for stores and finishing.
The sheep enterprise consist of over 500 ewes lambing from December to March. The Hampshire Down flock of 100 December lambing ewes was established over 50 years ago by Peter's father Henry. The 350 Romneys lamb in March to both pure Romney for replacements and a larger percentage put to either a Hampshire Down or Suffolk. The 120 ewe Suffolk flock was established in the early 80's with the aim to produce breeding rams specifically to fit the requirements of the South West commercial sheep farmer be it for use on Mules to breed replacements or any form of commercial ewe for prime lamb production. The flock has been performance recorded from the outset with emphasis on growth, scan weight, muscle depth and maternal EBVs, we feel performance recording has been of great benefit to us and our customers who have bought into the steady genetic improvement we have achieved using this aid, however when selecting stock rams for use the basics include a clean smooth head, tight wool, good flat shoulder and width front and back and has to excel in the gigot as it seems to be the first thing to catch the commercial man's eye.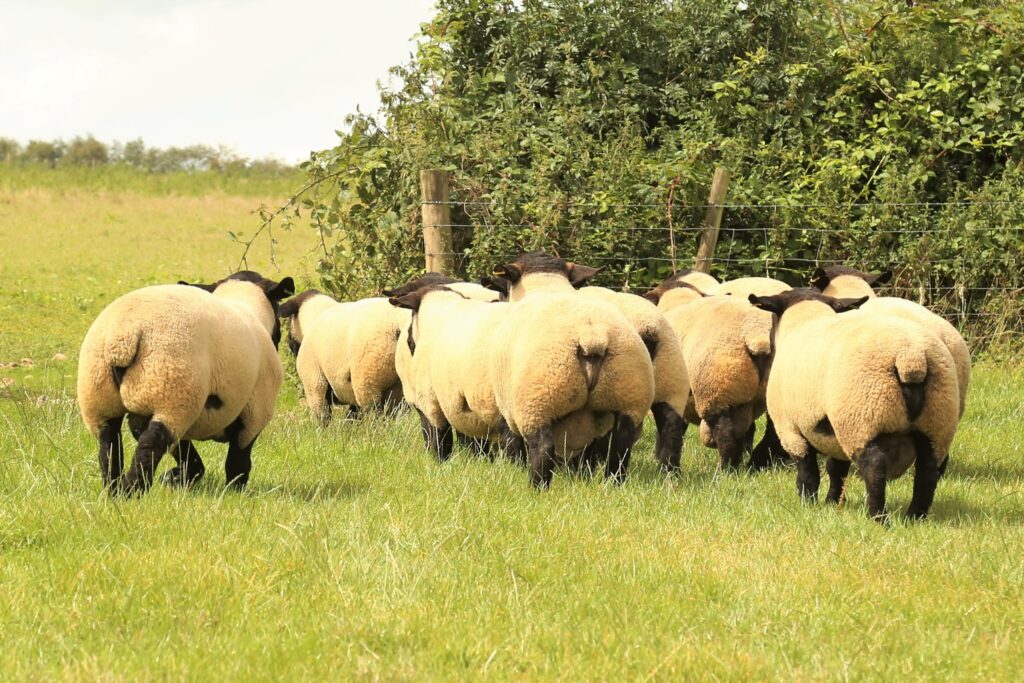 Also perhaps unique to the SW a relatively small head and moderate bone and short ears are required as there is a perception they will be hardier and lamb easier, particularly for customers who farm on the fringes of either Dartmoor or Exmoor. Each year a homebred lamb with a good index from a better performing ewe that has stood the test of time will be
used across a portion of ewes to incorporate some of our breeding. Up until 10 years ago AI was used and lambing took place in January but with customers really only wanting shearlings and to control costs, we now use teaser rams before natural service sires are introduced for February lambing. Ewes and lambs are turned out when the weather is favourable, creep is fed up until scanning in June by then anything not required has been sold finished. Lambs are then shorn and run on grass until the following Spring when hopefully we have a forage crop to feed with a small amount of supplementary feed as our season usually starts with customers requiring rams from early May. Exeter early ewe sale and the SW NSA ram sales are our only auctions attended with the rest sold privately. We show at 2 local one day shows to promote ourselves and the breed. Time and later lambing rules out the County shows however we enjoy entering carcase competitions. This year a pair of pure Suffolk ewe lambs sired by stock ram Rugley Lucius won the overall combined live lamb carcase competition at Devon County show, a pleasing achievement for a native breed against the continental dominance of these competitions. It is also pleasing to see customers doing well in Spring lamb competitions, this year's Suffolk cross winner at both Exeter and Sedgemoor Easter markets were sired by Yarcombe rams with Suffolk sired lambs in general very often topping the market.

Stock rams have been bought privately and at Shrewsbury but Kelso seems to offer a large and diverse choice. Rams from Rugley, Soutra, Sandyknowe and Sitlow have done well for us over recent years. The SW is fortunate to have 2 large markets namely Exeter and Sedgemoor along with many more regional markets, collection centres and abattoirs. With the popularity of the early lambing Polled Dorset x ewe the Suffolk is very often the terminal sire of choice with its hardiness and growth rate hard to match, its main competitor this time of the year would be the Charollais. The breeding sales this year has seen a strong trade for Suffolk cross breeding ewes comparing well to other crosses which is driven by the high value and demand for the Suffolk cross cull ewe.

Being involved with this year's SW NSA event, at the host farm we were fortunate to see the role first hand of the Suffolk on a mule, producing prolific, milky highly productive ewes with a good cull value that has been the base of a successful North Devon family sheep farming enterprise for the last 35 years and has stood the test of time. These customers will no doubt dictate what we breed.
Based on an article originally published in the Farmers Guardian 2018, Published in Commercial Suffolks 2019