Blackwater Ram Lamb sold for top price €6,500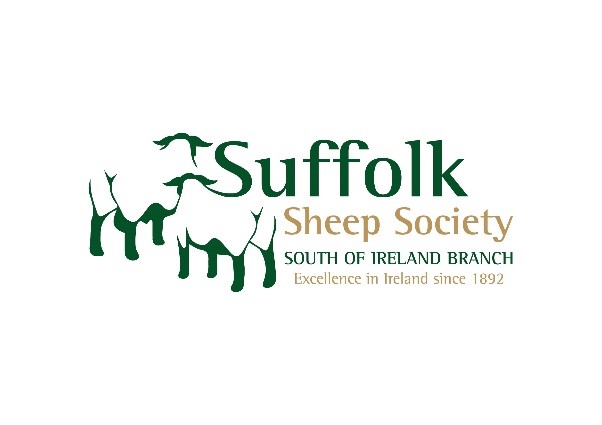 Date: 1st August 2020
Auctioneer: JP and M Doyle
Judge: Campbell Watson, Bannview Flock
Blessington Mart was the venue for the South of Ireland Branch of the Suffolk Sheep Society's Premier Show and Sale this year. To ensure all social distancing and Covid-19 directives and guidance were in place, the Society working closely with Blessington Mart, arranged for an outdoor sale with a portable sales ring and marquee on site.
With online and telephone bidding encouraged the sale was also well supported by breeders and farmers with an eye for commercial tups. Just under half the ram lambs sold on Saturday went to commercial farmers typically buying in the €400 to €750 price range at an average price €558 for commercial lambs.
Pedigree trade also went well with 31 sheep getting 4 figure sums in the sale. The average pedigree price for ram lambs sold to the pedigree market was €1,330 with AJ and NAJ Robinson (Co Down) paying top price of €6,500 for Patrick O'Keeffe's lot 41, a Castleisle Kilteskin Prince sired January born lamb out of a Birness Coulter sired Annakisha dam. Click here to view pedigree. Castleisle Kilteskin Prince was purchased at Stirling in 2019 for 20,000gns.
The hammer fell to R Tait (Co Donegal) at €3,000 for Seamus Browne's (Co Donegal) 4th placed lamb in the Open Ram Lamb Class. Sired by Limestone Gold Rush, this lamb is out of the Cairnton Eyecatcher sired Cairnton ewe.
John and Esther Gahan got over €2,000 for both their lots in the first ballot with D McCaughren (Co Antrim) paying €2,600 for the Limestone Aston Martin sired Recorded Class Reserve (lot 94) out of a Freightduff ewe sired by Rhaeadr The Real Mccoy. Wexford breeder, Michael O'Neill, bought lot 93 for €2,200, another Limestone Aston Martin sired lamb out of a Forkins Franko sired Barronstown bred ewe.
Belgium breeder, F Collard, bought AJ and JA Lucas' late December born lamb for €2,100 (lot 131). This Lakeview Jagermiester sired lamb is out of a Thurston Urastar sired Birness dam. The hammer fell to K Casey (Co Clare) at €2,000 for J and R Thornton's lot 34, a Strathbogie A Kind of Magic sired lamb out of a Killyclug dam.
The top pen averages were JandE Gahan (Co Wicklow) with €1,825 for 4 sheep and S Browne (Co Donegal) with €1,125 with 6 sheep through the ring.
Top female price was J Hanly's (Co Tipperary) 1st place in the Shearling Ewe class (lot 9) going to R H Barkley and Son of Ballymena for €1,900. The second highest female was also a Hanly Shearling ewe going to Brian McDonnell of Co Mayo.
Bidding on Eamonn Duffy's (Kells Flock) Supreme Champion ram lamb (lot 74) peaked at €22,000, but the sheep was not sold as it had not reached its expected reserve.
Clearance 62% with an average of €576
| | | | |
| --- | --- | --- | --- |
| LOT NO. | FLOCK | PRICE IN EUROS | BUYER |
| 41 | BLACKWATER | 6,500 | AJ & N Robinson |
| 112 | ERRIGAL | 3,000 | R Tait |
| 94 | BARRONSTOWN | 2,600 | D McCaughren |
| 93 | BARRONSTOWN | 2,200 | M O'Neill |
| 131 | FINNVALE | 2,100 | F Collard |
| 34 | KILLYCLUG | 2,000 | K Casey |
| 46 | ANNAKISHA | 1,800 | G Conroy |
| 114 | ERRIGAL | 1,700 | T Feeney |
| 170 | BARRONSTOWN | 1,700 | PJ Howard |
| 42 | LIMEPARK | 1,600 | J Trimble |
| 64 | BEECHBROOK | 1,500 | R Sands |
| 124 | CONVOY | 1,400 | M McNally |
| 150 | BEECHBROOK | 1,300 | C Finnegan |
SHOW RESULTS
Male and Supreme Champion
Lot 74 Eamonn Duffy
C46:20:03050 by Limestone T-Rex
Reserve Male and Overall Reserve Champion
Lot 46 Arthur O'Keeffe
R15:20:06089 by Castleisle Kilteskin Prince
Female Champion
Lot 24 Kenneth Bailey
HDC:20:00121 by Cairness Corker
Reserve Female Champion
Lot 16 James O'Connell
DBJ:20:02213 by Shannagh Synergy
Single Shearling Ewe
1st Lot 9 J Hanly
G4:19:02544 by Limestone Lowry
2nd Lot 8 Kenneth Bailey
HDC:19:00066 by Cairness Foremost
3rd Lot 4 Coote Geelan
F56:19:01208 by Errigal Tubridy
Single Ewe Lamb
1st Lot 24 Kenneth Bailey
HDC:20:00121 by Cairness Corker
2nd Lot 16 James O'Connell
DBJ:20:02213 by Shannagh Synergy
3rd Lot 19 David Quinlan
UHZ:20:01537 by Mullaghboy Goliath
Ram Lamb Sired by a SOI Bred Ram
1st Lot 46 Arthur O'Keeffe
R15:20:06089 by Castleisle Kilteskin Prince
2nd Lot 118 Mssrs Wilson
78A:20:06695 by Castleisle Kilteskin Prince
3rd Lot 78 Susan O'Keeffe
BYD:20:02462 by Castleisle Kilteskin Prince
Novice Ram Lamb
1st Lot 42 Philip Byrne
TJW:20:00024 by Strathisla Speed
2nd Lot 91 B and G Doyle
UTX:20:00146 by Castleisle Capaldi
3rd Lot 170 J and E Gahan
SKW:20:00531 by Ballynacannon Royal Flush
Recorded Ram Lamb Class
1st Lot 136 Arthur O'Keeffe
R15:20:06082 by Castleisle Kilteskin Prince
2nd Lot 94 J and E Gahan
SKW20:00546 by Limestone Aston Martin
3rd Lot 97 J A Doherty
CFN:20:02960 by Strathbogie A Kind Of Magic
Open Ram Lamb
1st Lot 74 Eamonn Duffy
C46:20:03050 by Limeston T-Rex
2nd Lot 81 Andrew Wilson
DDX:20:01174 by Castleisle Capaldi
3rd Lot 41 by Patrick O'Keeffe
NBK:20:06088 by Castleisle Kilteskin Prince
Gigot Class
1st Lot 123 L and A Kilpatrick
PWW:20:00194 by Birness Hustler
2nd Lot 137 Arthur O'Keeffe
R15:20:06091 by Castleisle Kilteskin Prince
3rd Lot 149 Colin Watchorn
PXL:20:00549 by Crewelands Oscar